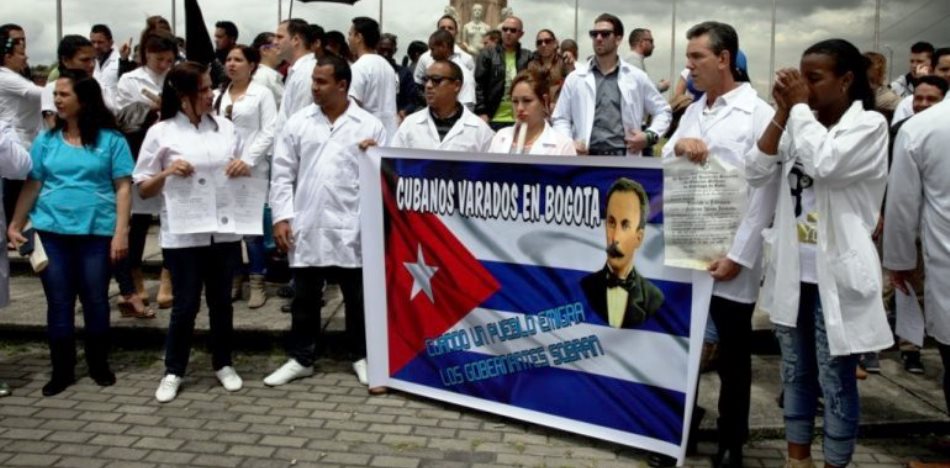 EspañolA group of Cuban doctors have arrived in Miami despite the recent elimination of the Cuban Medical Professional Parole.
Twenty-eight medical professionals arrived this Monday, February 6 at the Miami International Airport after having spent more than five months in Colombia waiting to receive US work visas.
Though the Cuban Medical Professionals program was repealed on January 12, the group of Cubans were able to obtain their corresponding visas because they submitted their applications before officials announced the program would be eliminated.
"This is a triumph for the entire Cuban-American community, our organization and the offices of Cuban-American congressmen who have worked to get these guys treated correctly and their applications answered satisfactorily," said President of Solidarity Without Borders Julio César Alfonso.
He said the doctors had been "enslaved" in missions in third-world countries, but now they can celebrate having escaped "migratory limbo."
The doctors were supposed to work in Venezuela or Brazil, but they deserted and requested visas from the United States. While in waiting, they moved to Colombia.
Yerenia Cedeño was one of the doctors who was able to make it to Miami. He spent a short time in Venezuela despite the country's economic and medical shortages, as well as its violence, which he described as "horrible."
"Venezuela is much worse than my country," Odontologist Celia Santana said. "I never imagined it to be like this, it is a disaster in that country."
Maikel Palacios, a health professional and spokesman for the group, said each doctor could be reintegrated into Cuba's public health system, but those who desert cannot enter the country again for eight years.
The government appropriates two-thirds of the wages earned by Cuban internationalists abroad and are reportedly sent to the most remote and deplorable places.