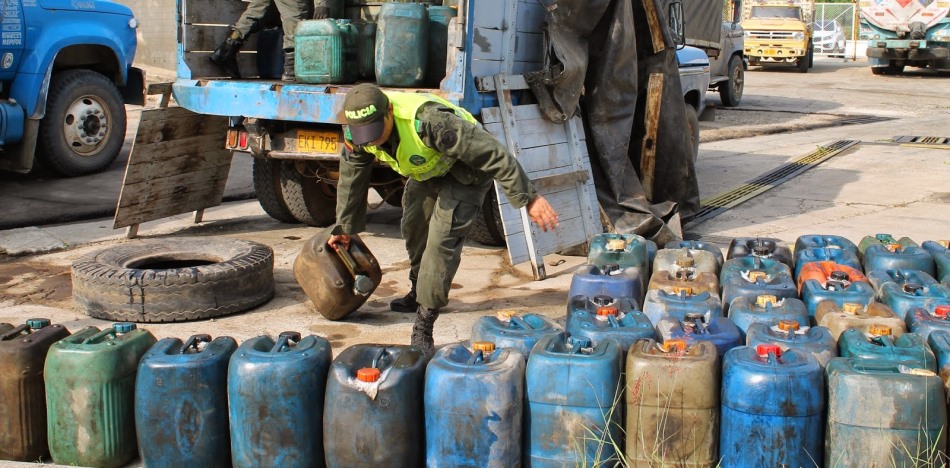 Police and military officials from both Colombia and Venezuela began operations on their lengthy and porous shared border in order to combat fuel smuggling.
These actions are in addition to the so-called Operation Tourniquet that seeks to combat organized crime groups who run the smuggling operations.
According to the governor of the state of Táchira (Venezuela), Jose Vielma Mora, the authorities confiscate daily between 8,000 and 22,000 liters of fuel.
Just in the last two months they have confiscated 46,721 liters of gasoline, 5,800 liters of diesel, 1,775 plastic containers for the storage and transport of fuel, about 700 meters of hose and more than 200 bicycles and 30 vehicles adapted specifically for fuel smuggling.
In Colombia, another operation was started in Bucaramanga, the capital of the Norte de Santander department, where approximately 13,230 liters of smuggling fuel were seized, along with 40 motorcycles that had been adapted for gasoline smuggling.
In addition, authorities deactivated explosive devices that were designed to be detonated by an electrical activation system, using 250 meters of cable.
The arrested guerrilla was identified as Hermides Delgado Leon, aka "Gerardo", from the Urban Front "Carlos German Velazco Villamizar."
The suspect, along with his explosive device, was made available to the Immediate Reaction Unit (URI) of the Prosecutor's Office.
To combat gasoline smuggling, the Venezuelan president announced that this Monday, January 30, that they will open new international gas stations, two on the border with Colombia, and one on the border with Brazil.
"To combat smuggling through the sale of gasoline in Colombian pesos, starting tomorrow in Apure state [located in the south] we will open two border stations with Colombia," he said.
Venezuela has the cheapest gasoline in the world: a liter of 91 octane gas costs just USD $0.0015, while a liter of octane 95 costs just USD$ 0.009).
Maduro has tried to discourage the smuggling of gasoline to other countries by raising the cost of Venezuelan fuel along its lengthy border.
Sources: La Patilla, El Nacional, El Tiempo