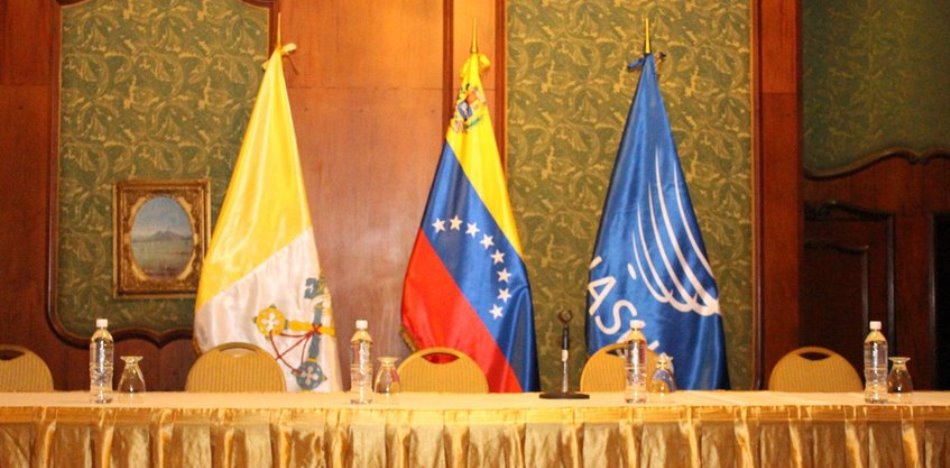 EspañolSecretary of the Democratic Unity Roundtable Jesús Torrealba announced that the Venezuelan opposition will not resume dialogue with the Venezuelan government that was scheduled for January 13.
"We are not satisfied with the conditions for restoring a direct dialogue between the parties next January 13," the opposition said in a letter addressed to Vatican Secretary of State Pietro Parolin.
The Vatican has been facilitating the dialogue process between Nicolás Maduro's administration and the Venezuelan opposition, and had set up the January meeting date.
The opposition is reportedly not going to attend the talks because the national government has not met certain demands agreed upon at previous meetings.
Opposition leaders said that contrary to an advance in electoral matters — one of the main focuses of the dialogues — there have been a setbacks.
"In equally important areas, such as the freedom of political prisoners and the care of the victims of the humanitarian crisis, there have been timid, insufficient gestures that do not represent real reparations for the inferred damages or an aid to the victims of or the seriousness that the crisis demands," a MUD statement read.
The statement addressed to the Holy See highlighted "non-compliance with the agreements with the families of the political prisoners, with the victims of the humanitarian crisis, with the representatives of Popular Sovereignty expressed in the National Assembly, with workers left jobless after looting induced by official irresponsibility, with entrepreneurs driven into bankruptcy by a government that forced them to sell below their costs of production, and with all the other actors of this complex Venezuelan time, who have no possibility of any dialogue with a government that does not know how to have one respectfully even with some of the international facilitators it invites. "
Sources: La Patilla; El Nacional; El Tiempo.