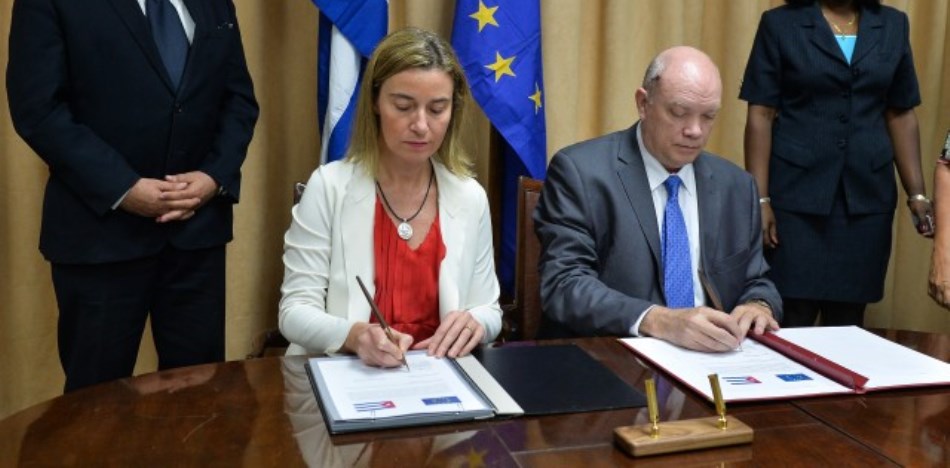 EspañolThe European Union (EU) has signed its first bilateral pact to normalize relations with Cuba, focused specifically on political dialogue and cooperation, and promising that Trump's arrival in power will not affect it.
"We recognize that there are changes, and we want to accompany them and take the relationship to a new level," said Head of EU Foreign Policy Federica Mogherini. "This is a historic day, we have turned a page. Today we are starting to write a new chapter together."
The new framework for relations revolves around three key goals: boosting political dialogue, especially when discussing human rights; identifying sectors in which to cooperate, such as the environment, governance and civil society; and trade cooperation focusing on the economy, investment and customs cooperation.
The bilateral pact between the EU and Cuba has been accelerating after the thaw with the United States, though some have questioned whether those policies could be affected by the arrival of President-elect Trump, who has been harsh on the Obama adminstration's approach to boosting economic growth at the expense of keeping high standards of human rights.
"(Trump ) will not in any way affect the relations between the European Union and Cuba," Mogherini said. "The European Union has expressed its concern over the extraterritorial effect of US sanctions on Cuba. We will continue to do so because we believe that it is not only in the interests of the island and its people, but in our case, it is in the interest of Europeans to address this issue."
The agreement must still be ratified by the European Parliament, the national parliaments of the EU and the Cuban government in order to bring it into force; However, the bloc has decided to immediately implement certain parts of the agreement.
Sources: El Nuevo Herald; El País.