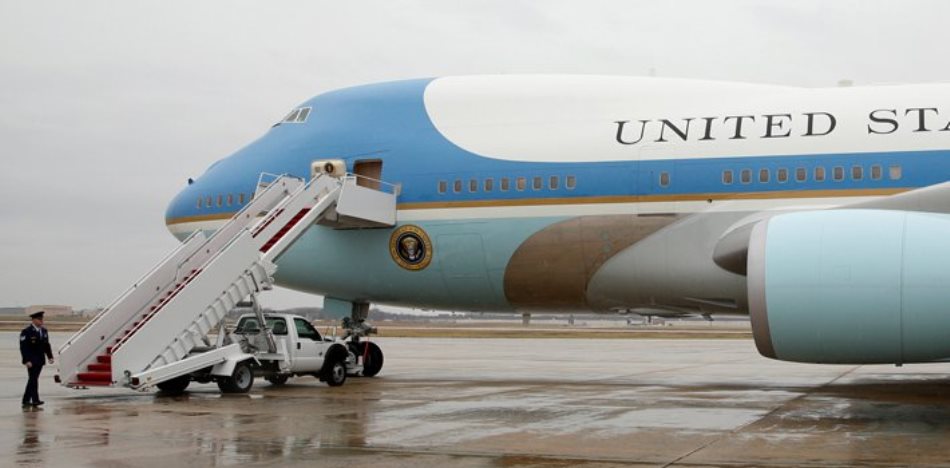 EspañolUnited States President-elect Donald Trump took to Twitter Tuesday threatening to cancel a massive Boeing contract for new Air Force One airplanes.
Controversy began when it was revealed that Boeing had fallen by 1.38 percent, and Trump took to Twitter to comment about the cost of the Air Force One project.
"Boeing is building a new Air Force One 747 for future presidents," he wrote. "But costs are out of control, more than $4 billion. Cancel order!"
Boeing is building a brand new 747 Air Force One for future presidents, but costs are out of control, more than $4 billion. Cancel order!

— Donald J. Trump (@realDonaldTrump) December 6, 2016
Shortly after, Trump appeared in the lobby of his building in Manhattan to speak with journalists about the contract, explaining his position on the project.

"I think Boeing is forcing the numbers a little," he said. "We are currently under contract for $170 million to determine the capabilities of this complex aircraft to meet the requirements of a President of the United States."
Spokesman for the presidential transition team Jason Miller said the message they are trying to send is rooted in easing of burdens on taxpayers and reducing government spending.
The White House currently has two Air Force One 747-200 units with two decades of service. The idea was to replace them with an Boeing 747-8 that has more mobility and size.
The planes are still in the design phase, and there are reportedly ongoing conversations with Boeing about its completion, which may now include lowering costs.
"If Trump withdraws completely from the Boeing contract, the country could lose money that had already been devoted to paying for the project," the BBC reported.
Sources: Prensa Libre; BBC; Actualidad RT.