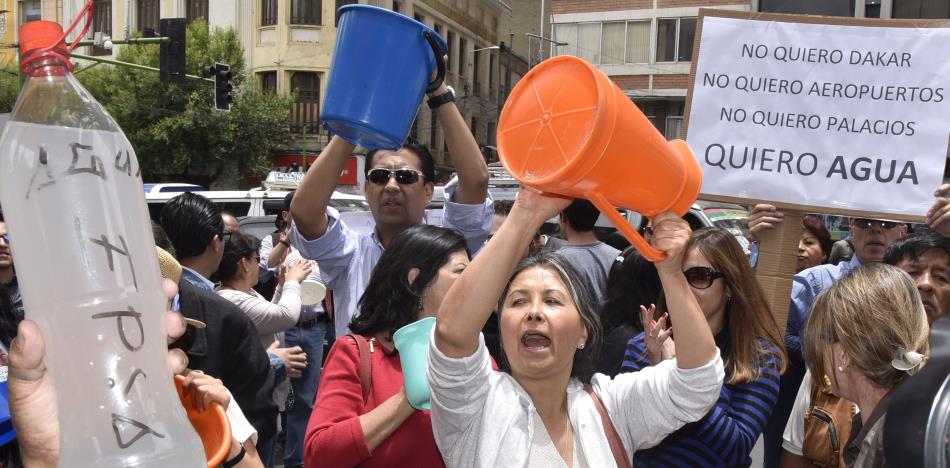 Evo Morales is under heavy pressure to address the water problem, and fast. (hispantv)
EspañolDue to Water scarcity in La Paz, President Evo Morales has announced the creation of a new waterways operation in which water is distributed through cisterns with help from the military.
Four hundred military personnel will reportedly be responsible for distributing approximatley 43 tankers.
According to local media, the operation covers more than 100 effected neighborhoods.
"We have 400 troops working," Army Commander General Luis Ariñez said. "One hundred and six in the operation center and 294 troops in the delivery of water … The work is done 24 hours a day."
The Mayor's Office of La Paz has also added 15 trucks to the effort, as well as the the construction of bases for water tanks.
Suffering residents have demanded the resignation of the Minister of Environment and Water Alexandra Moreira, protesting in the La Paz's city center.
Speaking from the National Fund for Regional Development, where operations are based, President Morales asked that people avoid politicizing the problem and blamed some leaders and politicians for affecting water operations.
Benigno Siñani, President of the Federation of Town Councils of El Alto, called on the government to administer the Public Social Enterprise for Water and Sanitation (Epsas).
The ally of Soledad Chapetón also warned Morales that if he did not resolve the conflict, he would be expelled from the country.
The cooperatives of Santa Cruz offered to send water to La Paz without any restrictions. However, the government denied the offer.
"We are willing to ship from Santa Cruz, but we need the logistical support of the government with tankers and tanks," said Victor Ortuño, president of the Federation of Department of Water and Sewerage Cooperatives of Santa Cruz (Fedecass).
Source: El Deber.