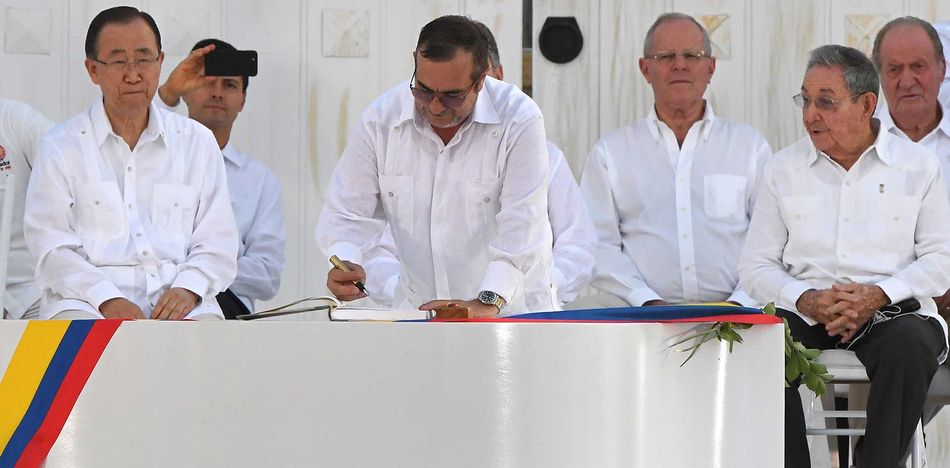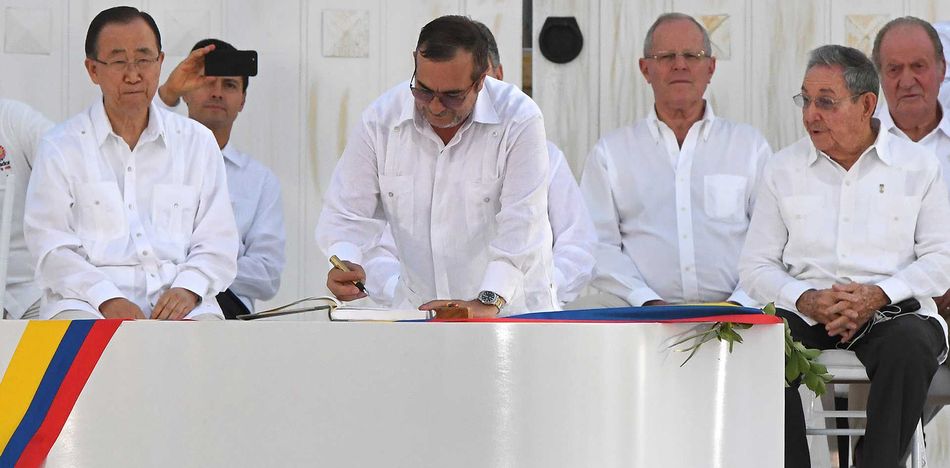 EspañolThe Revolutionary Armed Forced of Colombia and the country's government announced the signing of a new peace deal this Saturday, November 12.
President Juan Manuel Santos and Leader of FARC Rodrigo Londoño signed the new document that intends to put an end to fighting that has lasted more than 50 years.
The text has not yet been made public, so it is still unclear whether the agreement will be ratified through a referendum like the previous version, which was voted down this last October. Both signing parties assured media that the decision incorporated the complaints and suggestions that arose after the previous agreement's failure.
"We have worked judiciously and hope that that work satisfies those who voted No, and the nation," President of Colombia Juan Manuel Santos said during a televised discussion Saturday night.
"After having attended to the clamor caused by Colombians who want peace and reconciliation, we have reached a new final agreement," a statement said after the signing.
President Santos said the new, renovated and adjusted document should unite the country, not divide it.
"I said the agreement of September 26 was the best possible agreement," he said. "But today, with humility, I recognize that this agreement is better when it comes to resolving a lot of criticisms."
FARC will reportedly give up all of its assets — one of the bigger requests made by supporters of the No vote — but the agreement does not provide for jail time for members that committed human rights violations, which was also a major point of contention.
Chief Negotiator for FARC Iván Márquez said the guerilla group gave up more than it had originally established it was willing to. More than 65 percent of No supporters' requests were implemented related to Special Jurisdiction for Peace and around 90 percent of initiatives linked to the topic of gender equality were also addressed, as was notably desired by religious groups.
Negotiators also said they made more than 100 variations to political participation, comprehensive rural reform, solutions to problems of illicit drugs and the implementation and verification of the end of the conflict.
President Santos said there were precisions and changes to 56 of 57 topics in the new agreement.
However, he said one of the points where they didn't budge was the political eligibility of FARC members, as "FARC has a political origin and its intentions for the future are to be able to be involved in politics without raising up arms."
Additionally, Santos said the difference between the new and old agreement is that this one does not allocate seats to members of FARC, but does allow them to participate in the electoral process.
Watch President Santos' full address here: