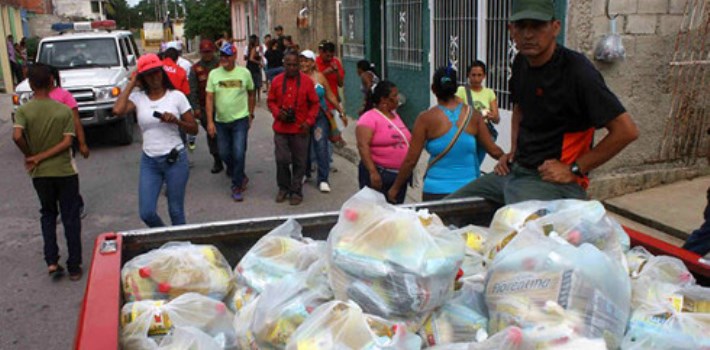 EspañolSix months after the creation of the Local Committees of Supply and Production (Clap) that is designed to "distribute food directly to the people," the government has decided to change its approach by threatening those using the program.
The Venezuelan government announced that it will suspend delivery of food packages to those who criticize its policies.
The suspension of an unnamed member of the communal council will last for three months, but could extend much longer, officials warned.
In addition, officials threatened to impose penalties against those who make their discontent with the government public by removing their information from the Clap database.
Clap was created in April as part of the People's Distribution System of Food program as a government strategy for distributing food and other goods.
The new policy announced by the government did not come as a surprise to many opposition communities, as they had previously struggled with similar issues of discrimination on a more informal basis.
Critics also claim the PVSU is taking more than its fair share of goods from Clap.
"This is abuse of power," Leader of Popular Will Ismael Leon, "and we want the prosecution to appoint someone to investigate these three officials for corruption cases in Clap."
"As they saw that the opposition was winning the communal councils, they created the Clap," he continued. "Now the corrupt who were in communal houses are tucked into the Clap. Sooner rather than later, this regime will be help accountable by justice."
Patria Para Todos (PPT) Regional Coordinator Jose Acarigua Rodríguez said there are people who are "peddling human misery, taking for their own interest food bags while leaving other families without food that should be for the whole population."
On October 13, the government officially announced a decree that requires producers to sell up to 50 percent of its goods to state authorities intended for Clap.
Both companies and the opposition have made their disagreement with the implementation of this decree known, claiming the measure only exacerbates shortages by diverting products that should go to pantries of regular shops.
Sources: El Nacional; El Tiempo.