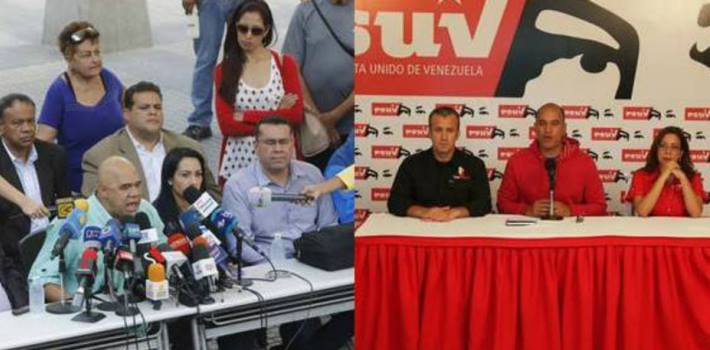 EspañolLeaders of Venezuela's opposition coalition MUD and the ruling United Socialist Party of Venezuela (PSUV) both demonstrated on Wednesday, October 12.
The march by the PSUV was held "by anti-imperialist resistance, for peace, defense of the revolution, and the country" in an effort to show support for embattled President Nicolás Maduro, while MUD's called "for the restoration of democracy, and the Constitution."
Trujillanos colmaron de alegría y mensajes de paz revolucionaria calles de Boconó (+Fotos) – https://t.co/3MxpclvBCr pic.twitter.com/CKN95QetId

— PSUV (@PartidoPSUV) October 12, 2016
The opposition is pressuring the Chavista-packed National Electoral Council (CNE) to ensure that the recall referendum against President Nicolás Maduro's will take place this year to force a change in government through elections.
If removed in 2017, however, Maduro will give his post to Vice President Aristóbulo Istúriz, a loyalist that is poised to continue the policies that have led the oil-rich country to economic ruin and social turmoil.
The rally organized by the MUD opposition party performed a kind of rehearsal of the collection of million of signatures needed to trigger the referendum from October 26 to 28.
El 80% de los venezolanos está en el camino de la paz, la democracia y #PreparadosParaDefenderEl20. pic.twitter.com/pVebehquSt

— Unidad Venezuela (@unidadvenezuela) October 12, 2016
They summoned and organized thousands of citizen volunteers in hopes of celebrating a referendum to replace Maduro before the end of the year and turn the country around.
Sources: Últimas Noticias; El Nuevo Herald.