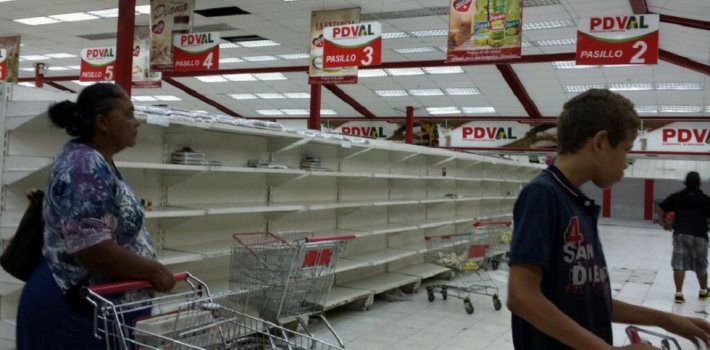 EspañolWomen blockaded streets in the Guanape sector of Venezuela's La Guaira to protest food shortages.
The blockade consisted of more than 300 families, all of whom protested the lack of basic goods and services. The Local Committee for Supply and Distribution (CLAP) has not supplied enough for everyone, the people said.
Women protesters specifically made their voices heard, discussing their discontent over the contents of their packages last Sunday, which only contained three bags of flour, a sardine, one tomato sauce and a bag of detergent. Many said they felt the need to protest the lack of milk, pasta, sugar and rice, among other products needed.
People chanted "we want food. With CLAP I feel like a beggar."
Head of the Parish of La Guaira Rolando Gonzalez said packages delivered by the government did not have enough products for people to survive on, but that there was a problem with delivery from the government organizations Pdval and Mercal.
Residents were not satisfied with the explanations given by Gonzalez and decided to continue protesting.
The protesters were also angry about discrimination during the delivery of groceries. According to them, there are sectors that get more products than others. Some decided to participate in a meeting to seek to improve product distribution.
A plainclothes sergeant ultimately had to alleviate the situation by talking down protesters; however, the municipal police assaulted him and actually accused him of inciting demonstrators.
Protesting neighbors decided to throw stones at the officers, forcing them to leave.
This is not the first time that Venezuelan women have taken desperate actions when faced with food shortages.
Despite the closure of the border with Colombia — which was implemented by order of Nicolás Maduro August 2015 — Venezuelan women managed to push past the National Guard on the border to purchase products not found in their country.
Source: El Nacional