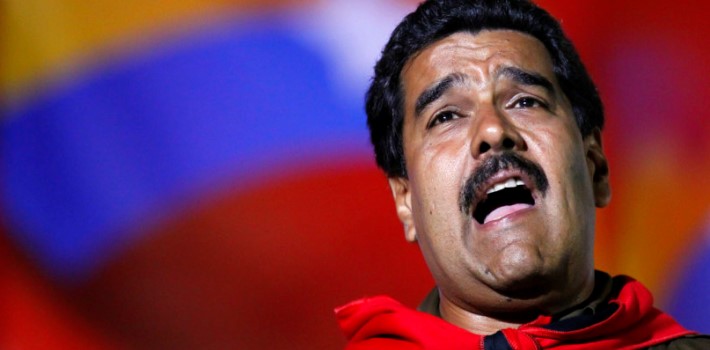 EspañolVenezuelan President Nicolás Maduro and his adminstration have been shunned by my most of South America for being undemocratic.
Leaders and other important political officials have described it as repressive and autocratic, while international organizations like the Organization of American States (OAS) have stressed the need to address the country's dwindling attention to its citizens' welfare.
OAS Secretary General Luis Almagro, as well as various representatives of the member countries of the Southern Common Market (Mercosur) expressed their approval of the final decision to block Venezuela from assuming the presidency of the bloc.
"We welcome Mercosur's decision on Venezuela because it is in accordance with the law and democratic principles," Almagro said on Twitter Wednesday.
The founders of Mercosur (Argentina, Brazil, Paraguay and Uruguay) were the final deciders on the decision to prevent Venezuela from taking the presidency, and will instead run the bloc "through coordination" between the four countries.
President of Argentina Mauricio Macri expressed his agreement with the decision, adding that Venezuela "is violating human rights and Latin America can not turn its back (on the situation)."
Senator and Minister of Foreign Affairs of Brazil Jose Serra also opposed giving Venezuela the presidency of Mercosur.
"It can't be awarded to a country whose democracy is in question and has not yet adopted the internal rules of the bloc," he said.
Brazilian officials have reportedly said they do not expect to improve relations with Venezuela while Nicolas Maduro is in office.
"We hope that, in the case of Ecuador and Bolivia, other roads are found for our relationship. But in the case of Venezuela it seems that this will be impossible, at least while President Nicolas Maduro is in power," Serra said.
Paraguay has maintained its position of not recognizing Venezuela for the presidency.
"This decision has been made very early, and gives legal stability to Mercosur," Vice Minister for Economic and Integration Affairs Rigoberto Gauto. "Now signatory states may themselves carry out the actions required for negotiations."
The Foreign Minister of Paraguay Eladio Loizaga previously made it clear that if Venezuela took over the presidency, Paraguay would no longer attend.
"Paraguay is not going to attend any call to made by Venezuela in Mercosur," he said. "Furthermore, in the last week the internal situation in Venezuela has gotten complicated."
Chile has also strained its relations with Venezuela due to the arrest of journalist Braulio Jatar, who broadcasted an uprising against Nicolás Maduro on Margarita Island.
The Chilean Foreign Ministry said "the Government of Chile will not rest in defending the rights of its citizen Jatar. He is protected under international treaties on human rights of which Chile and Venezuela are parties."
Belize, Brazil, Canada, Chile, Colombia, Costa Rica, Guatemala, Honduras, Mexico, Panama, Peru, The United States and Uruguay have also asked that no delay be made in recalling Maduro.
An OAS report in August said that the organization supported a "timely, national, inclusive and effective dialogue. This dialogue must address the urgent needs of the people of Venezuela.  It must preserve peace and security and secure absolute respect for human rights. Among them are due process, separation of powers and the consolidation of representative democracy."
Sources: El nacional; Runrun.es; La nación; El pitazo.