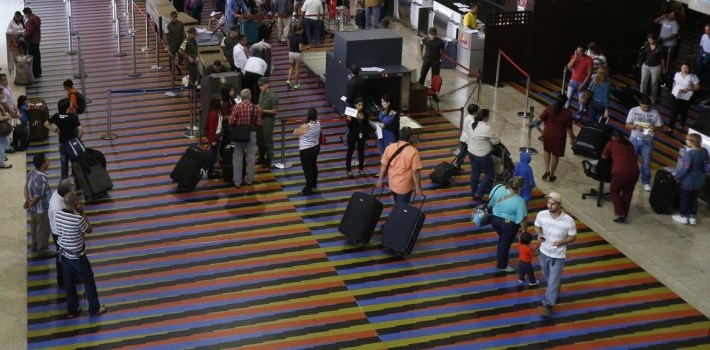 EspañolThe Venezuelan government has banned Argentinean and Mexican journalists hoping to cover the "Great Taking of Caracas," a large opposition march on September 1.
According to Venezuela's National Union of Press Workers (SNTP), reporters from Argentina working for Al Jazeera were held in the Maiquetía airport on August 29, pending deportation to Colombia.
#ALERTA miembros del equipo reporteril de @AlJazeera son retenidos en Maiquetía. Autoridades quieren deportarlos en el primer vuelo a Bogotá

— SNTP (@sntpvenezuela) August 29, 2016
Members of the Al Jazeera reporting team were detained in Maiquetia. Authorities want to deport them back in the first flight to Bogotá.
Reporters John Holman and Ricardo López arrived from México on Monday, but will be deported today to El Dorado International Airport in Bogotá, Colombia, because they do not have a special visa. Their passports were taken, and they were delivered a rejection letter, the press union said.
SNTP announced that the "Al Jazeera team came from Argentina to cover the events of this week in Venezuela when it was detained" and said they were told "the rules have changed." Their computers were allegedly also confiscated.
#ALERTA Teresa Bo, corresponsal, Lagmi Chávez productora y el camarógrafo @AlJazeera fueron retenidos en Maiquetía. Les quitaron sus equipos

— SNTP (@sntpvenezuela) August 29, 2016
Teresa Bo, correspondent, Lagmi Chavez producer and cameraman of Al Jazeera were detained in Maiquetía.  They took their equipment.
Since the announcement of the march, President Nicolás Maduro has tried to hinder the protesters, deploying soldiers, enacting road blockades and banning private planes and drones hoping to take aerial shots of the event.
On August 26, Venezuelan officials deported Ecuadorian Congresswoman Cynthia Viteri, who was meeting with the wife of political prisoner and Venezuelan opposition leader Leopoldo López.
Source: Tal Cual, La Patilla.