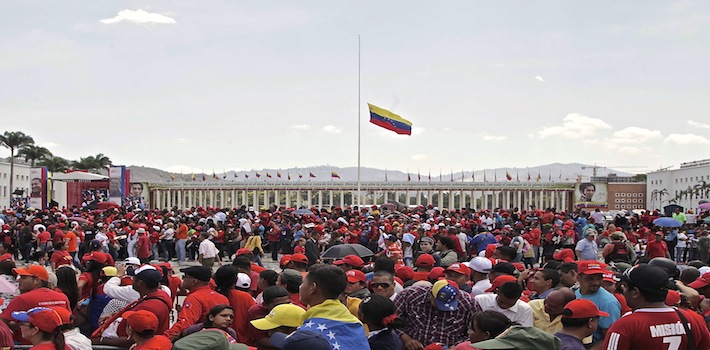 EspañolThe great "taking of Caracas" is due any day, some believe.
International media outlets and members of Venezuela's opposition have said they're on the lookout for an increase in the country's military's involvement.
US newspaper El Nuevo Herald published an article about what might happen to the thousands of Venezuelans planning to march in support of the referendum to recall President Nicolás Maduro should the military step up its enforcement.
Many Venezuelans fear the military will not allow the event to take place, repressing citizens with guns and tear gas, among other things.
"It will be the largest demonstration in the country's history," official Armando Armas said. "The armed forces will have to choose (sides)."
Analysts have said the military is no long the "primary defender of the constitution," but rather a tool for the United Socialist Party of Venezuela (PSUV).
There's no debating military members benefit from government perks — enjoying quality food distribution that allows them to avoid having to wait in the daily food lines made up of average citizens. Similarly, the armed forces have their own hospitals that provide antibiotics, needles and gauze, among other scarce items.
Currently, there are 12 cabinet ministers occupied by soldiers and 20 former military leaders in the ruling party.
The military oversees television stations, freight companies, insurance and import and export, among other business activities the military is almost never involved in in other countries.
Director of the Latin American Center for Security Studies Luis Alberto Butto said the armed forces have so much power and so many economic and political interests that "we are living as a country of barracks."
"The military is a dominant force politically and economically and in the business world," he said, "and they will defend their own interests. Under those circumstances, democracy is something like a myth, a symbol. It's not real."
El Nuevo Herald also wrote that: "there are dark reasons why the military supports the status quo. For years there have been rumors and allegations that the Venezuelan armed forces are actively involved in drug trafficking, smuggling and selling currencies on the black market."
President Maduro has continued offering government positions to active and retired military. General Vladimir Padrino López, for example, was appointed Head of the "Great Mission of Sovereign Supply" that aims to end the shortage of medicines and food.
Armas said increasing military power could benefit Maduro because it makes Vladimir Padrino Lopez responsible for the country's problems.
"By making Padrino Lopez [unofficial] co-Chair of Venezuela, Maduro forces him to share responsibility," Armas said.
Sources: El Nuevo Herald