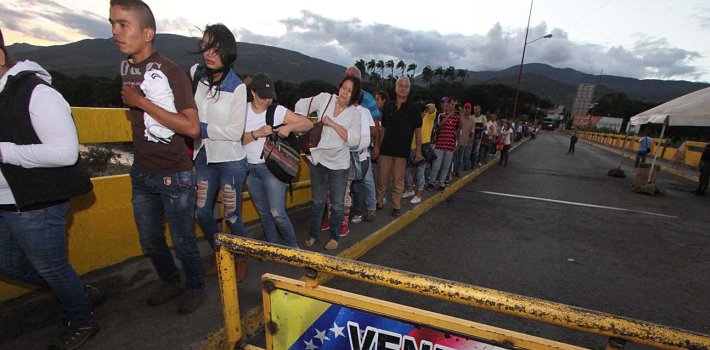 EspañolAfter the opening of the Colombia-Venezuelan border on Saturday August 13, the Colombian Foreign Ministry said 12,500 Venezuelans citizens crossed to the city of Cucuta seeking basic drugs and food.
This after nearly a year in which the border was closed. Colombia President Juan Manuel Santos and Venezuela President Nicolás Maduro met last Thursday, August 11 to discuss border conflicts restricting passage between the two countries.
Both presidents agreed to facilitate the passage of "the new border" in order to solve existing problems of smuggling, to improve trade relations and to facilitate the passage to students and workers, among others.
Though Colombia wanted to avoid "security issues" caused by massive amounts of people, thousands of Venezuelans mobilized in the early hours anyway, waiting at the Simon Bolivar International Bridge to enter Cucuta.
Traffic flowed normally despite many of the Venezuelans not having the new provisional migration card that helps regulate mobilization between the two countries.
Colombian authorities allowed the passage of basic products to the Venezuelan territory as long as they were in small quantities.
"The Government has made a great effort to achieve the reopening of the border and tools such as the future Document of Immigration Facilitation will not only ensure that this opening is permanent, but will also help to keep the border orderly, regulated and secure," Colombia's General Director of Immigration Christian Krüger Sarmiento said.
The document is a temporary measure that will allow the passage to Colombia seven days a week, from 5 a.m. to 8 p.m.
Sources: Globovision; El Mundo; El nacional.