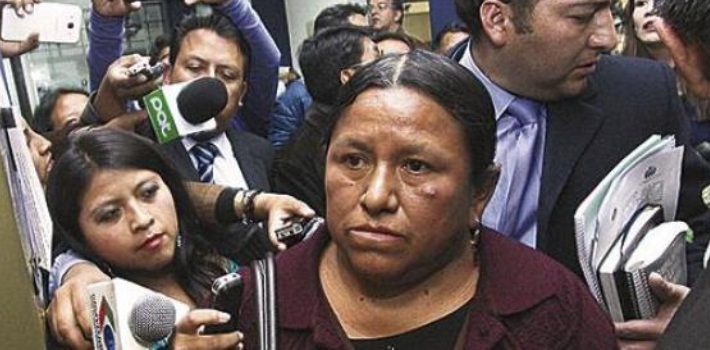 EspañolCharges have been brought against Former Minister of Rural Development and Land Nemesia Achacollo.
Former Director of the now-defunct Indigenous Fund Marco Antonio Aramayo called for Achacollo to be prosecuted for illegal projects she signed off on.
A total of 238 corrupt projects were discovered, causing many — including Aramayo — to voice their disapproval of Nemesia only being processed for one charge.
"We ask the Public Prosecutor to expand the charges of Ms. Nemecia Achacollo from one case to 238 case, for the crimes of economic behavior and dereliction of duty," Aramayo said.
Former Deputy of the Movement to Socialism (MAS) Román Loayza also commented on the matter, saying that though Nemesia Alchacollo still has the protection of the government, the cases should be investigated objectively.
"As minister she was directly involved with the great corruption of Fondioc" he said. "Therefore, it should be investigated coolly. It cannot continue being covered up."
Achacollo's lawyers denied the accusations, saying their client only approved one ministerial resolution and not the other projects.
"She did not endorse the projects and definitely didn't order the disbursement of resources," one of her lawyers said. "That was each of the former directors of Fondioc's responsibility ."
Sources: Página siete; El deber Bolivia