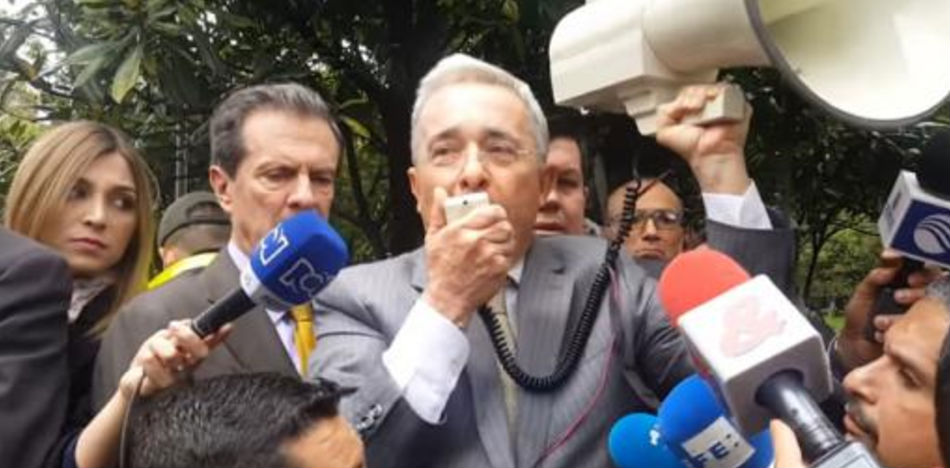 Former president and current senator Alvaro Uribe Vélez, during a demonstration of Venezuelans in Bogota against Nicolás Maduro, said that the armed forces must disobey the mandate of what he described as "a dictatorship."
Uribe called on the Venezuelan military to put their rifles in the service of democracy and asked the armed forces of the country ruled by Maduro not to continue firing on their own people, and to "ignore the dictatorship's mandate," he said in front of journalists according to the Nuevo Herald and EFE news agency.
"What they have to do is to put their weapons at the service of democratic values, never against the people who are today the victims of that opprobrious dictatorship. I hope Venezuela will quickly overcome this tragedy," the senator added.
Uribe described the Venezuelan people as a prime "example of civil society" because of the marches carried out by the opposition to the government and criticized the role of the international community in the current crisis in the neighboring country of Colombia, but said that it is already beginning to awaken. He heralded the current debates taking place in the OAS, where the possibility of applying the democratic charter is being contemplated.
The senator also denounced the possible presence of 4,000 FARC guerrillas in Venezuela, who, according to him, are backed by the dictatorship. This complaint had already been made by the governor of the state of Amazonas in Venezuela, Liborio Gaurulla.
Yesterday, on Wednesday, April 19, Venezuelans gathered in one of the largest opposition marchers of recent times. Opposition leader Henrique Capriles Radonski called for the protests to be repeated today. In the last three weeks six days of protests have left seven people dead.
The catalyst for the protests was a recent Supreme Court decision that usurped functions of the National Assembly, which is controlled by the opposition.
Source: El Nuevo Herald