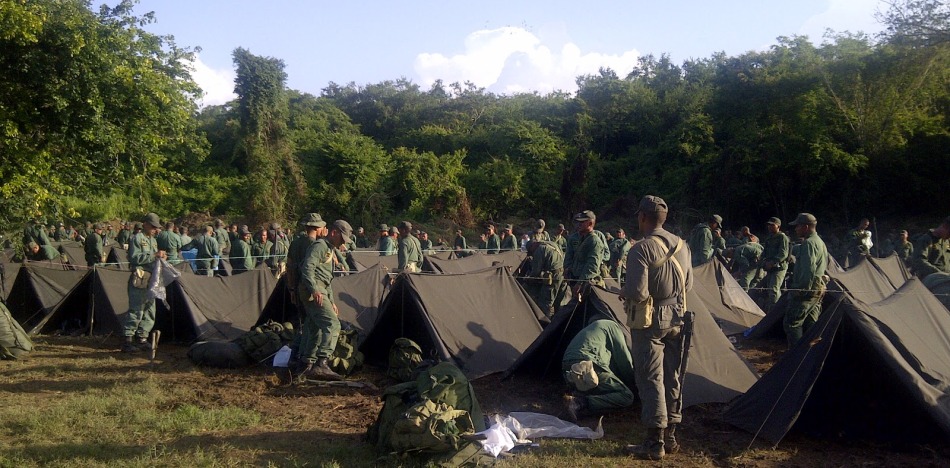 EspañolVenezuela is now occupying Colombian territory, officials confirmed, following the arrival of soldiers that crossed the border to the department of Arauca and set up camp.
The 60 Venezuelan soldiers entered the eastern region of Colombia and raised the country's flag while settling in Bocas de Juju, which is part of the Arauquita municipality.
Local representative Lady Gelvez confirmed the event, saying that Venezuelan military arrived there around noon on Tuesday, March 21 arguing that it was part of their country's territory.
Colombian military officials are reportedly verifying the situation.
Communication has reportedly already been established between foreign ministries of both countries and Sovereignty Director of the Colombian Foreign Ministry Ricardo Montenegro said he will travel to meet with the border team to evaluate the exact coordinates of the camp.
"The situation began the day before yesterday, the Venezuelan government has invaded some areas in the Colombian territory where there are banana crops and they have settled there," one resident said, "The owners of these crops say that there are about a hundred men who walk around there and do not allow discussions with the population. They only want to address Colombian armed forces."
This is not the first time Venezuelan officials have entered Colombian territory. A few weeks ago, they entered the northeastern department of Santander, which caused tensions between the two countries.
Currently, relations between the two countries are still struggling with those tension. President Nicolás Maduro decided to close the border between the two countries, several times accusing Colombians of committing crimes there.
Source: El Espectador