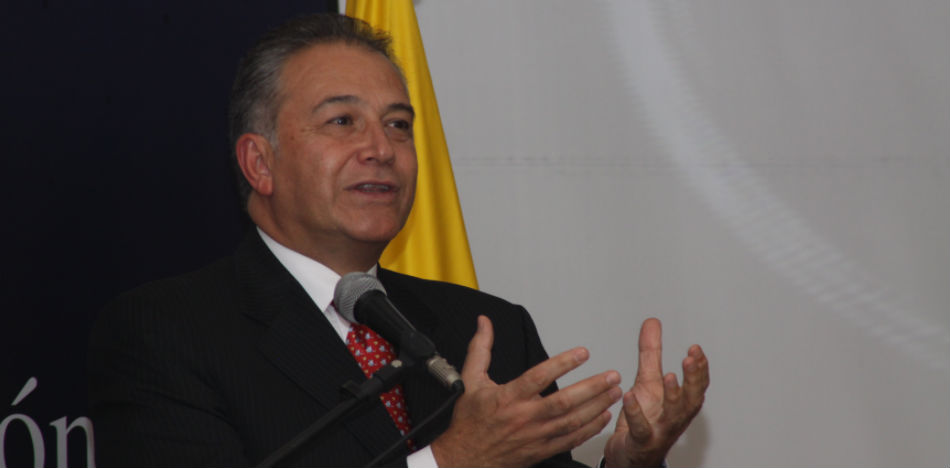 General Óscar Naranjo, who will assume the vice presidency of Colombia in coming days due to the imminent resignation of Germán Vargas Lleras, said that his priority will be to focus on issues such as drug trafficking, illegal mining, extortion, and corruption according to an interview conducted by Caracol Radio.
Naranjo acknowledged that there is an absence of state presence in some parts of Colombian territory and that this has contributed to an increase in illegal open-pit mining of minerals such as gold, an activity in which illegal groups such as the ELN, criminal gangs, and the FARC have participated, along with drug trafficking.
According to the aforementioned station's portal, Naranjo says that the lack of state presence has allowed "the flourishing of criminal economies, and taking away their sources of illicit income has got to be a priority: drug trafficking, mining, extortion, are lucrative sources of illegal incomes, that we must attack with the full force of the law."
In addition, he said that the Colombian government should make its presence felt in areas where it has historically failed to reach. In the wake of the FARC's demobilization and exodus to the so-called "pre-concentration zones", criminal and drug trafficking groups, as well as the ELN, have been fighting for control of the abandoned zones.
The FARC guerrilla's lucrative drug trafficking routes are now being hotly contested, and have long fueled Colombia's internal conflict.
In addition, Naranjo says that corruption and extortion, which continue to occur in different parts of the country, must be eliminated.
Current vice president German Vargas Lleras is planning to resign his office soon in order to launch a bid to seek the presidency in the 2018 elections. Under Colombian law, the president can appoint his vice president in the event of a resignation.
Vargas Lleras is considered to be one of the front-runners, but is likely to face stiff competition from the right by former president Alvaro Uribe's Centro Democratico party, as well as from left-wing candidates such as Claudia Lopez and Jorge Robledo.
Source: Caracol Radio