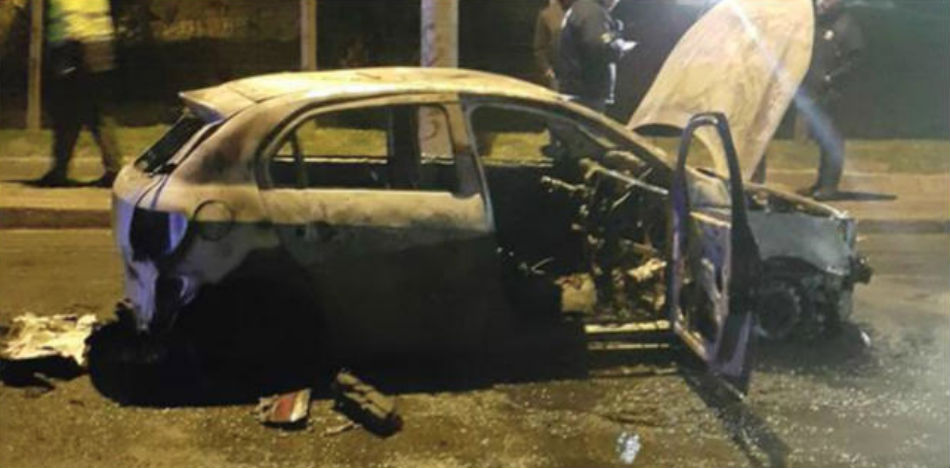 EspañolSeveral taxi drivers allegedly chased, threatened and burned a private vehicle being used for UberX in the northwestern part of Bogotá Tuesday, January 17.
According to the victims, the Volskwagen Golf model 2016 was covered in gasoline after being chased down one of the main avenues in the Colombian capital.
The attack happened with two passengers inside the vehicle, which did not deter the attackers, who reportedly burned the car for operating with Uber, the driver told authorities.
The application has changed and, many say, improved individual transportation across the world, but Colombia, like many countries in South America, is still resisting its surge in popularity.
"Several taxi drivers threatened (the victim) with a firearm," Corporal Penagos of the Bogota Fire Department said in statement.
Those responsible for the attack were driving in a Kia Picanto taxi that ended in 883. Authorities said they are still trying to find the whereabouts of the attackers, and are offering a reward of over US $3,000 to anyone with information that will lead to their whereabouts.
Public Officials Make Comment 
Minister of Defense Luis Carlos Villegas and Secretary of Security of Bogota Daniel Mejía both criticized taxi drivers who continue "taking justice into their own hands."
Vandalism has long been reported by drivers using the application. In one incident, a group of people was beaten by taxi drivers after being confused for Ubers drivers.
Mejia said he considered such events as "an act of terrorism" and accused taxi drivers of double talk — portraying a public image of peace while internally inciting violence against the competition.
In another instance, taxi drivers requested an Uber like regular users. In the middle of the ride, they asked the driver to stop, took his cell phone and then burned the vehicle.
"We are collecting information from security cameras and we have some information on where the car involved came from," Mejia said.
Leader of the taxi driver union Hugo Ospina said he doesn't believe taxi drivers committed the most recent attack.
"I do not know if it was a taxi driver," he said. "I refuse to believe that a taxi driver is going to start burning a vehicle when he knows the implications are so serious."
Source: Blu Radio, Blu Radio (II), El Espectador, Publimetro