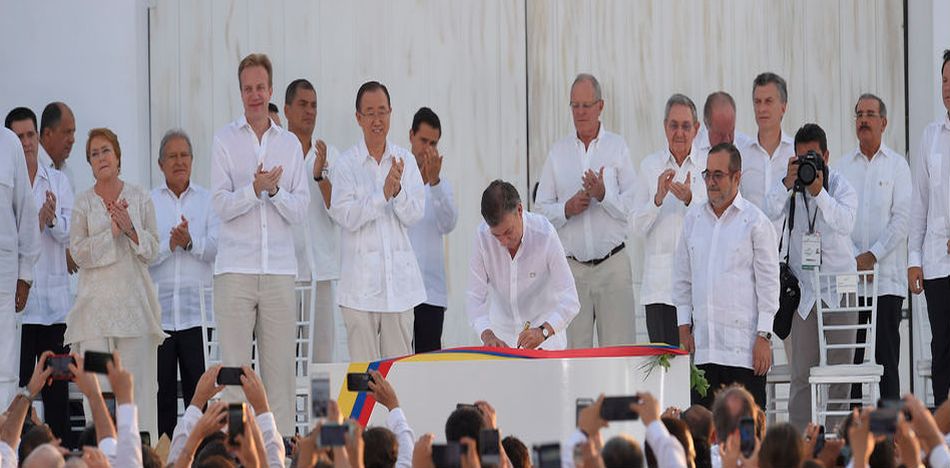 On September 26, 2016, a major event was held in Cartagena, on Colombia's northern coast, in which the government and the FARC signed an agreement aimed at ending the armed conflict in Colombia. Leaders from around the world were in attendance, including then Secretary-General of the United Nations Ban Ki-moon.
The event was noteworthy for its extremely high costs, which reached an astounding COP $4,500,000,000 $(USD 1.5 million). The company in charge of advertising was Sístole SA, a company which counts as a partner Felipe Santos, the younger brother of President Juan Manuel Santos.
The allegation was made by the president of the National Federation of Merchants (FENALCO), Guillermo Botero, after publishing the figure on his Twitter account. Botero challenged the government to deny his claim, guaranteeing the figure's credibility, and citing contract 181 of 2016, which can be viewed in this link.
The contract details that:
THE CONTRACTOR [SISTOLE SA] undertakes to provide the ENTITY, through its own means, with full technical and administrative autonomy: the planning, design, logistics and production services for all of the activities required in the ceremony for the signing of the peace agreement, to be held in the city of Cartagena de Indias on September 26, 2016, in accordance with the conditions established in the selection process put forward by the Ministry of Commerce, Industry, and Tourism.
In addition, an article published in Las 2 Orillas states that Sístole S.A received contracts during the entirety of the negotiations in Havana between the government and the FARC, for publicity of the Santos-FARC agreement.
This has not been the firm's only business with the government of Juan Manuel Santos, as the firm's website lists the Colombian Foreign Ministry as one of its main clients.
Source: Las 2 Orillas,  contratos.gov.co