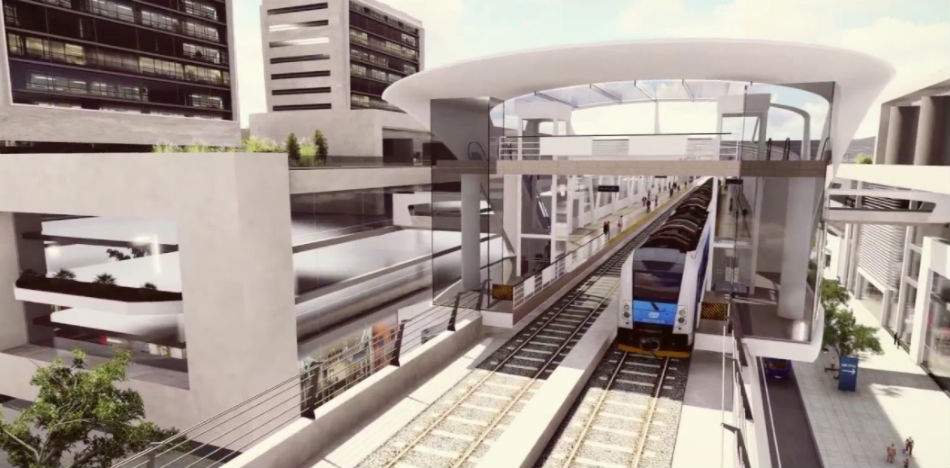 Following a meeting in the Palace of Nariño, the residence of the president of Colombia, the Colombian government announced its finalized proposal for construction of Bogota's much awaited metro. The national government will allocate $9.6 trillion Colombian pesos (USD $3.2 billion) to build the first metro line in Bogota, which will have a total estimated cost of $13.8 trillion Colombian pesos (USD $4.6 billion). The remaining funds will be paid from the finances of the Colombian capital itself.
In addition, investments of up to $15.5 trillion Colombian pesos (USD $5.2 billion) were announced for projects that improve mobility in the greater Bogota metropolitan region, which are expected to include expansion of the articulated bus system known as the "Transmilenio" into Soacha, a municipality located south of Bogota, as well as construction of the "Regiotram" commuter train.
Soacha, located in the department of Cundinamarca, is Bogota's largest and fastest growing suburb, whose skyrocketing population has caused transportation and infrastructure headaches for local governments.
The government has allocated $600 billion Colombian pesos (USD $203.4 million) to complete the pending phases of the Transmilenio's southern trunk lines, which are estimated to be moving about 420,000 passengers per day.
The government has also appropriated $1.36 trillion Colombian pesos (USD $461 million) for the construction of the Regiotram, a commuter rail which will link Bogota to the Cundinamarca municipalities of Madrid, Funza, Mosquera, and Facatativá. It is expected that around 211,000 passengers a day will use this service, which will be significantly faster than the bus lines currently in use.
Finally, both local and national governments will be in charge of financing Bogotá's long-awaited and elusive metro, leaving aside other models such as public/private partnerships. Thus, the Colombian state will be responsible for the paying the totality of the construction expenses.
Hours before the meeting, the government also announced the appointment of a new manager of the Transmilenio. He is Andrés Escobar Uribe, a civil engineering graduate of the School of Engineering of Antioquia, who was also manager of the Pedro Gómez and Comapañía construction company, one of the most well-known in the country.
Escobar said that thanks to having an approved budget, the Bogota metro company will be able to start working, a key request of the multilateral bank that will help with the credit that is needed to finance 90% of the project. The other 10% will be financed in the future, but Mayor Enrique Peñalosa and the Bogota city council are still working out the terms.
Source: El Tiempo