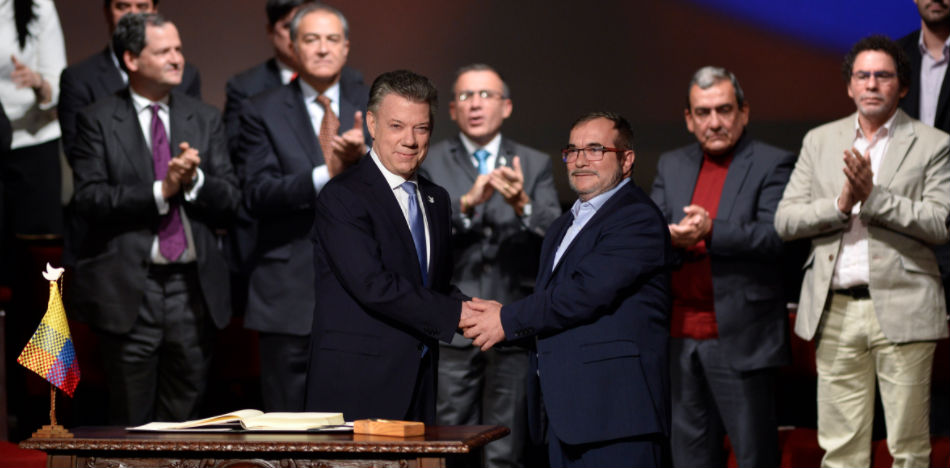 This Thursday, November 24, a "new" peace agreement was signed at the Teatro Colón in downtown Bogota, between the Colombian government and the FARC (Revolutionary Armed Forces of Colombia). During the event, the FARC's top leader, known as "Timochenko", said that a "transitional government" is needed for the implementation of the agreement's provisions.
Although he did not go into specifics, the reaction was swift. The opposition took social and mainstream media by storm to reject the words of the FARC's top leader, who attended the signing ceremony accompanied by a large security detail.
Democratic Center Party (Centro Democratico) senator, Alfredo Rangel, assured the Colombian newspaper Noticias Caracol that the words of Timochenko were nothing more than the proposal of a co-government with President Juan Manuel Santos to implement the new agreement.
Additionally, Rangel said that President Juan Manuel Santos lied to the country when he said that the agreement would be endorsed by the people since it was confirmed that the Colombian Congress will be in charge of this task, which in the first agreement was delegated to the people through a national referendum.
Meanwhile, other members of the Democratic Center Party and opponents of the agreement criticized what Timochenko said via Twitter. Carlos Holmes Trujillo, vice presidential candidate of Uribe, asked if it was clear where the FARC was heading with the agreement, referring to the possibility of implementing a socialist or Communist system in the country.
Ex-guerrilla Everth Bustamante, who is now a Democratic Center Party senator, said the transitional government would be a farce and an "impunity party."
Here are some recent tweets about the "new" peace agreement
"When will the new transition government assume power?"
¿Cuándo se posesiona el gobierno de transición? pic.twitter.com/SCPdNXd3sn

— Juan Carlos Pastrana (@jcpastrana) November 24, 2016
"Santos will deliver what remains of our nation to narcoterrorism. Timochenko's proposed 'transition government' is part of a sinister plot."
Santos entrega jirones de Patria al narcoterrorismo. Propuesta de Timochenko de un "gobierno de transición" hace parte de pactos siniestros.

— Ernesto Macías Tovar ?? (@ernestomaciast) November 24, 2016