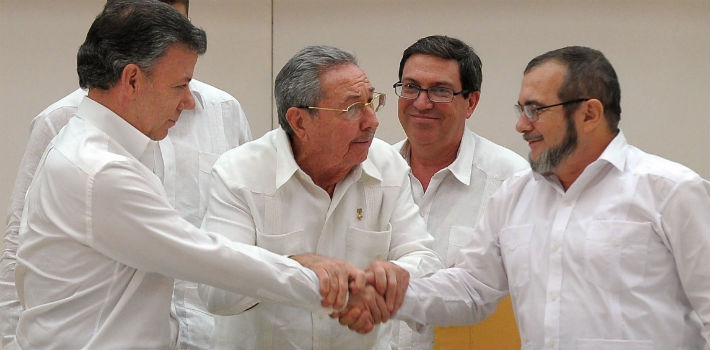 EspañolAfter the Colombian people voted down the country's attempt to make peace with the guerilla group FARC last week, the Nobel Peace Prize committee announced President Juan Manuel Santos and Rodrigo Londoño — alias Timoshenko, the leader of FARC — have been removed from the nomination list.
Director of the Research Institute for Peace Kristian Berg Harpbiken made the announcement, saying that the nomination of anyone from Colombia for the Nobel Peace Prize was now out of competition due to the results of the referendum on Sunday, October 2.
According to her, the agreement reached between the Colombian government and the FARC is outside any credentials for nomination.Therefore he ruled out that the South American country could receive the award this Friday August 7.
A few days ago, the historian of Nobel laureates Asle Sveen said Colombia had a good chance to receive the Nobel Peace Prize. He also said that Santos and Timoshenko were the most obvious candidates for the prize. However, he also said that if "no" won, all chances were out the window.
Sveen himself said one day after the referendum that the success of the peace process was out of the question. He said now the most popular choice will be those involved with the agreement with Iran that lifted lifted economic sanctions and established a mode of regulation of its nuclear program.
United States Secretary of State John Kerry also has a chance to win, along with Foreign Policy Chief of the European Union Frederica Mogherini, who collaborated with the agreement between Santos and FARC.  
Source: El Espectador