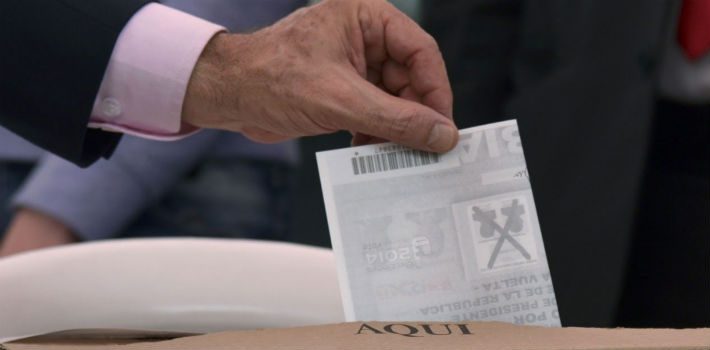 EspañolColombians voted "no" this Sunday, October 2, to ratify the peace agreement reached between the government and the Marxist guerrilla FARC after years of negotiations in a major blow to President Juan Manuel Santos.
Contrary to what most polls had predicted, voting booths closed on Sunday afternoon with roughly 50.3 of ballots saying "no" to the referendum's controversial question: "Do you support the final accord to end the conflict and build a stable and lasting peace?"
In a sign of Colombia's strong polarization on the matter, 49.7 percent of voters said "yes" to the government's proposed deal to end the its five-decades-long conflict with the country's largest rebel group.
The "no" camp found most support in Colombia's Casanare central eastern region, where 89.05 percent of voters rejected Santos's deal with FARC. Only 36,118 or 28.85 percent of registered voters in Casanare chose to ratify the agreement.
In the Colombian capital, Bogota, the "yes" side emerged victorious with 1,423,612 votes versus 1,114,933 who voted against the deal. The result was similar in those Colombian regions most affected by the armed conflict with FARC. However, they were not enough to defeat the "no" camp across the country.
A climate of uncertainty has taken over Colombia as the unexpected results put the Santos administration in a tight spot.
The country's top constitutional court has ruled that the FARC deal cannot be legalized otherwise, and how the different FARC factions who had agreed to lay down arms will react to the referendum's outcome is still unknown.
Sunday's outcome does not mean peace with FARC is off the table, however. After the National Civil Registry informed the preliminary results, former President Francisco Franco argued that the "no" victory is an opportunity to renegotiate the deal under terms that more Colombians can find acceptable.