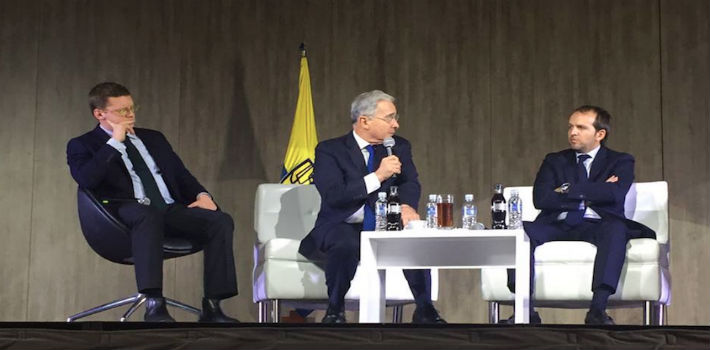 EspañolFormer President Alvaro Uribe openly criticized the FARC-Colombia peace process this Thursday, August 18 at a talk held at Sergio Arboleda University in Bogotá.
Uribe said he was concerned about the effect it will have on private companies, and pointed to a conversation he had with then-President of Venezuela Hugo Chavez in which he had warned against fiscal policies that ignored the private sector.
In addition, he spoke about the election of former President Chavez in Venezuela and said he was afraid that FARC, who identify as socialists, wanted to implement a similar model in Colombia.
Uribe projected a future in which FARC entered politics and brought a castro-chavism to Colombia that could change the entire face of the country's political landscape.
FARC's influence on land management in the country is also a problem, he said. The peace agreement might determine when the land is suitable for growing or not depending on enviornmental standards, which could lead to expropriation.
Uribe also said investors have lost their confidence. The economy is now stagnant, and will only worsen if FARC continues to frighten investors.
Uribe's views on the referendum for peace
Uribe was also critical of the requirements for the peace referendum. Thirteen percent of citizens must vote on whether they agree with the talks in Havana, which, compared with the 50 percent required before, seems like an anti-democratic measure.
Uribe said he believes in the quest for peace, but doesn't like the way in which it is being carried out.
In that vein, Uribe believes that if the "no" wins in the referendum, the government should reroute the agreements and negotiations so as to guarantee some amount of progress to the country.
Armed forces
Uribe made a serious push during his talk for regaining security and confidence in the country's armed forces, as the FARC guerillas have taken on the role of a terrorist group and are frequently referred to as "generals."
Uribe suggested creating a bill that gives more benefits to members of the Armed Forces while demobilizing FARC guerrillas.
The former president said FARC will be defeated, ultimatley, but the country must right its path in order to do so.