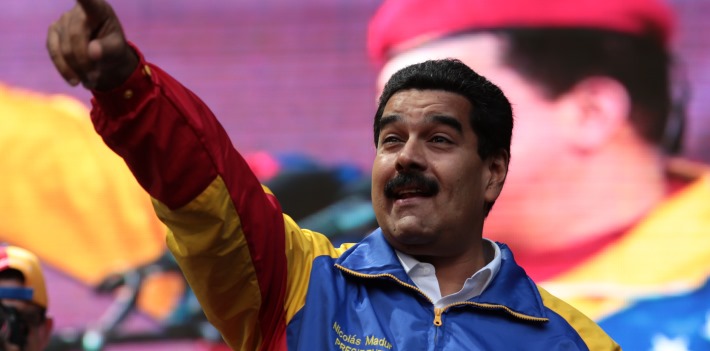 EspañolInternational rumors surrounding Nicolas Maduro's have been talked about extensively of late, but everyone has forgotten to address how that will actually be carried out, and what will happene if it's successful. The Pope has been mentioned as a high-flying lobbyist to facilitate an abdication of power as orderly as possible, but that can't be the only option.
The necessity of his removal is inarguable when you look at the numbers: food shortages have reached 85 percent and lack of medicine 96 percent, according to the Venezuelan Medical Federation (FMV). In March, inflation reached 16 percent and the expected annual inflation is a crushing 700 percent. The Central Bank's liquid reserves are at 31 percent. The economy is projected to be the worst in Latin America this year.
In just 10 days, 160 people have been killed. More than 100 police officers have been assassinated in three months. The Guri Dam continues to drop in water level, meaning an energy crisis is just around the corner.
According to the Venezuelan Observatory of Social Conflict, the average number of registered protests so far this year is 17 per day. Over 1,300 violent deaths were recorded in the first quarter and the poverty level reached 80 percent. The ports of La Guaira and Puerto Cabello look bleak.
As gangs dominate urban territories known as "peace zones" where authorities can't enter, lynchings spread like wildfire. Meanwhile, neighbors look on as badly wounded criminals are burned alive.
On April 6, 2014, the Bolivian Air Force received nine training and attack Hongdu K-8W Karakorum aircrafts bought from China to be added to the 15 sitting in military hangars. Fifteen days later, members of the Venezuelan Institute for Border Studies and the Military Institutional Front requested the Venezuelan Government enforce military laws and defend national sovereignty. Opening an external wound to overcome an internal crisis? Old ruse.
Maduro also continues to provide shelter and protection to the ELN — a terrorist group promoted by Castro and formed by the Liberation Theology.
[adrotate group="7″]The National Assembly continues to seek Maduro's constitutional expulsion through a recall, by illegitimacy for double nationality or by felony complaint.
How would Maduro's output affect the national and transnational scene? It depends on how a transition could be designed, and who assumes power. It could be Interior and Justice Minister Miguel Rodriguez Torres. It could also be current Defense Minister General Vladimir Padrino López, a ubiquitous character who does not inspire confidence in either side.
Aragua Governor Tarek El Aissami is also an option, but he is accused of arming colectivo groups and providing diplomatic passports to Venezuelan Hezbollah members.
Many conciliators, including the Pope, Castro and Barack Obama promoted Vice President Aristobulo Isturiz, former Accion Democratica MP, which could be a turning point in harmonizing the interests of both government and opposition.
His removal is a matter of time but the reality is that his possible loss of power will not make all of these issues disappear.
Source: