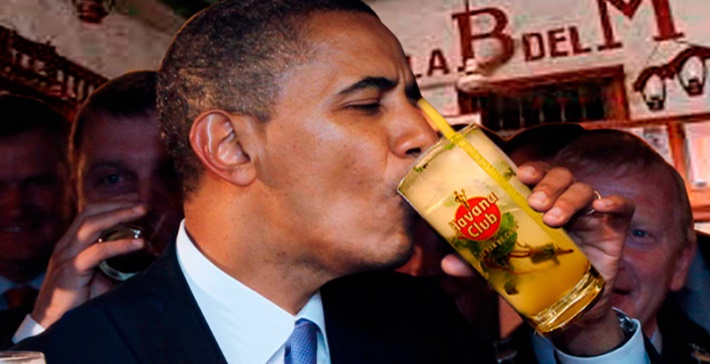 EspañolWith the Brussels attacks as a backdrop, President Barack Obama left Cuba after giving a speech in which he stated that the Cuban people are responsible for their own destiny.
He added that freedom of speech and respect for human rights are needed. That is, he openly made the case for democracy.
For Obama's supporters, the president made the trip to Cuba in order to stabilize a region which is of significant geostrategic importance for the United States. When Russian President Vladimir Putin sent ships and warplanes to the Caribbean, he triggered analysts' alarms. They wondered if the eagle that once dominated the Caribbean was retreating.
In addition, Russia's space agency installed Glonass, a global positioning system controlled from Nicaragua in order to compete with America's GPS and Europe's Galileo systems. Not content with that, Russia's Foreign Minister Lavrov travelled to Nicaragua in 2014 amid the Ukrainian crisis in order to announce his country's intentions to build military supply bases in that country, in Venezuela, and in Cuba.
China's Increasing Influence
After Obama's visit to Havana, a Kremlin spokesman praised Cuba as a friendly country which has good relations with its neighbors, particularly with the United States. China's President Xi Jinping also visited Cuba, Mexico, and Venezuela and signed agreements financial agreements with those governments.
Currently, Latin America owes about US $29 billion to China, with Brazil, Peru, Bolivia, Ecuador, Argentina, and Chile holding the lion's share of the debt.
In Nicaragua, China will build the world's largest canal, which will alter global trade and facilitate the transport of sorghum, copper, oil, and steel, among other commodities. While Obama was in Cuba, a Chinese Foreign Ministry spokesman said that relations between Castro's island and Washington will not affect China's relations with Latin America.
In July 2014, the New York Times asked if the Cold War was reemerging. Obama declared that the Cold War chapter was closed, and he dismissed Russian Vice President Medvedev's comments at the Munich Security Conference: "The relationship between Russia and NATO has reverted to Cold War status."
Obama also dismissed comments by Republican Congressman Dana Rohrabacher, who asked why the US is "resuming the Cold War with Russia."
The key question is: will something change in Cuba after this visit? Those who hope for structural change in Castro's tyranny still engage in wishful thinking. For now, Washington is just trying to improve relations with countries on its closer periphery as it undertakes critical issues with North Korea and Syria. Havana is well worth a baseball game
The hopes that increased investment in and free trade with Cuba will help get rid of the island's communism may end up in frustration.
The prosperity brought about by tourism, which flourished under Batista's dictatorship and is now controlled by the army, and by private investment will mostly benefit the Nomenklatura fat cats. The general population will still be subject to shortages and rationing.
In the meantime, Cuban rafters will continue to leave the island and its dictatorship of the proletariat.
Hours before Air Force One landed at Havana's José Martí airport, a Conviasa aircraft had brought Venezuelan President Nicolás Maduro to Cuba in order to meet his mentor and guide, Fidel Castro. A possible transition of power in Venezuela to avoid a regional disaster must have been one of the subjects. Bolivia's Evo Morales warned a few days ago, in fact, that, "if there is a coup-d'état (in Venezuela), workers will organize into guerrilla groups once again."
Speaking of guerrillas, Secretary of State John Kerry's meeting with the leaders of the Revolutionary Armed Forces of Colombia (FARC) leaves many questions. According to the Colombian government, the United States pledged to ensure the safety of those who lay down their arms. FARC members, meanwhile, aim to be removed from the official list of terrorist organizations.
The elephant in the room is the drug trade; US spokesmen have described the FARC as one of the world's biggest drug cartels. Will the United States maintain its hardline stance? Will the American judiciary maintain its effectiveness, efficiency, and independence and continue to seek the extradition of the FARC's entire leadership?
Hope in Argentina
Once he left Cuba, Obama flew to Argentina to meet President Mauricio Macri, who recently evicted Mrs. Kirchner, an unfriendly Bolivarian leftist, from power.
Argentina's regime change has been most significant in a region that is still finding its political identity. Latin America is now awaiting Dilma Rousseff's fall in Brazil and a new government in Venezuela, where the alternative is economic and social chaos.
[adrotate group="7″]In Buenos Aires, Obama and Macri discussed the vital issues of security, drugs, and business. Drug trafficking and security go hand in hand in the region and especially in Argentina, which has suffered the two most notorious Islamic terrorist attacks in Latin America, which were carried out by Hezbollah, an organization strengthened in the region by the alliance between Iran and Hugo Chávez's Venezuela.
While in Latin America, Obama showed that, although many consider him to be the worst US president in recent history, he still has a good group of advisors who know how to maintain America's influence in the Caribbean strife, deal with Venezuela, and strengthen relations with Brazil.
For now, only Colombian President Juan Manuel Santos has expectations regarding his negotiation with the FARC guerrillas. The Colombian people, on the other hand, are indifferent to Havana's negotiations. They reject impunity for terrorist bosses and accuse the Santos government of widespread corruption amid a worrying economic situation.
Back in Washington, Donald Trump's rise can alter Obama's entire strategy. The New Yorker, who acts as traditional Latin American caudillo, has the entire political establishment concerned about the direction the country may take after the next election.