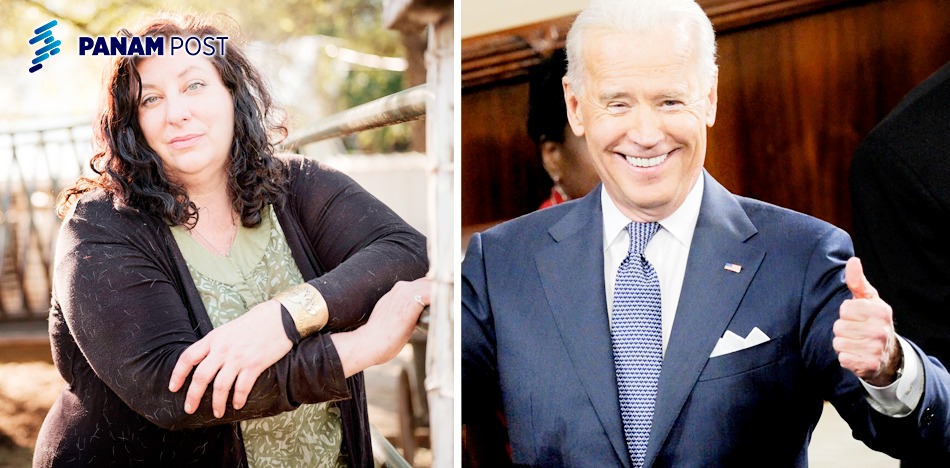 Spanish – Joe Biden was sworn in Wednesday as president of a polarized nation. While some celebrated the turnaround in US politics by the Democrats, others lamented the culmination of the Trump era, even questioning the results. But in the middle was Tara Reade, a woman who does not share the policies of the former president who has just left the White House but who, for personal reasons, does not celebrate Biden's rise to power either since he is the man who- according to her accusations- sexually abused her.
During the inauguration, Tara Reade could not help but express her concern and discomfort with what she saw on screen. She expressed this through her Twitter account and in several interviews in which she noted that witnessing the inauguration had been "indescribably difficult" for her.
"Today is yet again another difficult day for survivors of sexual violence. While I'm thankful Trump was defeated, the idea of the man who assaulted me as our president is still terribly painful," she wrote on Twitter.
Today is yet again another difficult day for survivors of sexual violence. While I'm thankful Trump was defeated, the idea of the man who assaulted me as our president is still terribly painful. I will be sharing resources for survivors today for #Inauguration2021

— Tara Reade ? (@ReadeAlexandra) January 20, 2021
An "exceptionally difficult" day
In an interview with the Daily Caller News Foundation during Biden's swearing-in, Tara Reade said that the new president has tried to silence her, but she will not remain silent.
"I will not be silenced. Instead of talking about saving the country's soul, he should be held accountable for his actions. The hard part is I believe in many policies that will move forward as I am a progressive Independent, but it is unspeakably hard to watch the man who assaulted me go to the most powerful position in the land."
She further recalled what she claims to have suffered for accusing Joe Biden. "Coming forward about being sexually harassed and assaulted in 1993 when I was Joe Biden's staffer was excruciating on so many levels… Biden used his power and resources with certain media to erase me and silence me."
The former Senate staffer who served under Biden also spoke to Fox News on Thursday. "Yesterday was exceptionally hard on many levels because the media, certain media outlets made it so clear that I was to be smeared, ignored, and erased. And they were pretty successful in doing so." She added that the feeling he got from watching Joe Biden being sworn in as president was one of "wanting to wake up from a nightmare."
More than one accusation
In March of last year, Tara Reade accused Biden of sexually abusing her in the halls of Congress. She claimed that he kissed, touched, and fingered her without her consent while she was working for him in 1993 when he was a senator. Biden has repeatedly denied these claims.
But this was not the only case. Previously there were other accusations by several women against Biden for "groping." The first to denounce the alleged sexual harassment was former Nevada Democratic Congresswoman Lucy Flores. She was followed by Amy Lappos, Caitlyn Caruso, and D. J. Hill. All agreed that they had been victims of inappropriate touching by Barack Obama's former vice president and now president of the nation.
Kamala Harris' endorsement of the allegations
Additionally, these women had very particular public support at the time. Biden's then-rival for the Democratic nomination, Kamala Harris, did not question the veracity of these accusations.
"I believe them, and I respect them being able to tell their story and having the courage to do it," Harris said at a Nevada event before the primary. The then-California senator added in that statement that Biden would have to decide whether to stay in the race for president, The Hill reported. The rest of the story is widely known. Today, she is his vice-president.