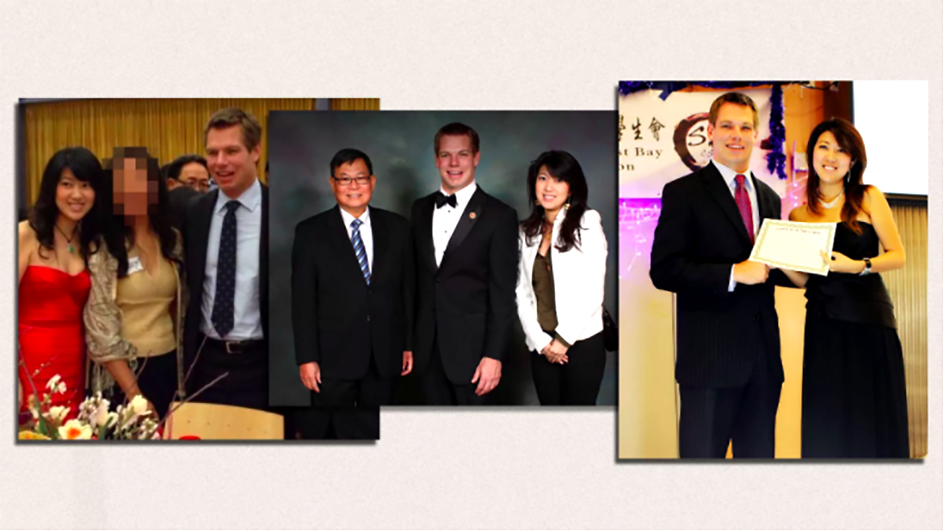 Spanish – Chinese patience is legendary. It is the greatest quality of the citizens of the world's most populous nation. For a civilization with more than 3,000 years of history, a decade means nothing when it comes to gaining access to information useful for influencing the political circles of the modern empire that the United States represents, in an attempt to supplant its role in world geopolitics.
For almost a decade, China's main civil espionage agency has been deploying an intelligence operation in the United States, developing extensive links with local and national politicians, mostly in the state of California, reveals Axios in an investigation that took a year.
The information points to a Chinese citizen named Christine Fang. And among the most important targets of the alleged Chinese spy was California Democratic Congressman Eric Swalwell.
Democratic Congressman Fundraiser
Axios claims that "Fang participated in the fundraising activity for Swalwell's 2014 re-election campaign," according to information that was reportedly provided by a political operator and a US intelligence official.
The most worrying thing is that "Swalwell's office was directly aware of these activities on its behalf," the political operator reportedly warned, claiming to have witnessed Fang's fundraising on behalf of the Democratic congressman.
However, Federal Election Commission records did not indicate that Fang herself made donations, which are prohibited to foreign nationals. Additionally, the contributions detected did not qualify as illegal. Fang's role would have been to help place at least one intern in Swalwell's office. Further, she interacted with the congressman at multiple events over several years.
Christine used her position as president of these two campus organizations to branch out into local off-campus politics. Between 2013 and 2015, she experienced an almost meteoric rise in Bay Area politics, becoming a ubiquitous presence at fundraisers and other political events.

— B. Allen-Ebrahimian (@BethanyAllenEbr) December 8, 2020
"Rep. Swalwell, long ago, provided information about this person — whom he met more than eight years ago, and whom he hasn't seen in nearly six years," according to a statement from Swalwell's office provided to Axios, adding that the congressman will not be part of the journalistic investigation to protect information that can be classified.
A decade-long endeavor
Fang's activities and behavior so alarmed federal investigators, following counterintelligence work, that they alerted Swalwell with what is known as a defensive briefing note.
Swalwell immediately severed all ties with Fang, according to a U.S. intelligence official, and he has not been charged with any crime. For her part, the alleged Chinese spy left the country unexpectedly in mid-2015.
This political intelligence operation led by China's primary civilian espionage agency took place between 2011 and 2015. Axios warns that although this suspicious operation seemed to have ended during the Barack Obama administration, concerns about the operations of influence of the Chinese communist regime have remained during the Donald Trump administration and will extend to the next administration.
"The case demonstrates China's strategy of cultivating relationships that may take years or even decades to bear fruit. The Chinese Communist Party knows that today's mayors and city council members are tomorrow's governors and members of Congress," Axios points out.
FBI warned about "subversive attempts"
But there wouldn't be just one spy. "She was just one of lots of agents," a senior US intelligence official in the investigation warned. The list of Axios informants includes 22 officials elected to date and in their current positions, as well as political agents and former students who knew Fang personally when she was in the United States.
FBI Director Chris Wray said in a statement last July that Beijing "is involved in a highly sophisticated malign foreign influence campaign." Wray added that these efforts involve "subversive, undeclared, criminal, or coercive attempts to sway our government's policies, distort our country's public discourse, and undermine confidence in our democratic processes and values."
Although US authorities do not believe that Fang received or transmitted classified information, this operation generated great concern because very sensitive individuals were involved. Information from government officials, considered private but not classified, included habits, preferences, schedules, social networks, and even rumors.
Chinese spying in Canada
This practice of the Chinese regime does not apply only in the United States. The Canadian Security Intelligence Service (CSIS) warned in mid-November that Beijing routinely uses undercover state security officials and "trusted agents" or proxies to target members of the Chinese community in that country in an effort to silence critics of President Xi Jinping, including threats of reprisals against their relatives in China, according to The Globe and Mail.
The federal intelligence agency added that these illegal activities in Canada are part of a global campaign of intimidation, which constitutes a threat to the sovereignty of this country and the security of Canadians.
In Canada, China's purpose is to silence its diaspora. In the United States, its intentions are more serious. In an article published on May 20 in Bloomberg, American historian Hal Brands says that China wants to dominate the world, and to achieve this, it needs the fall of the American empire.