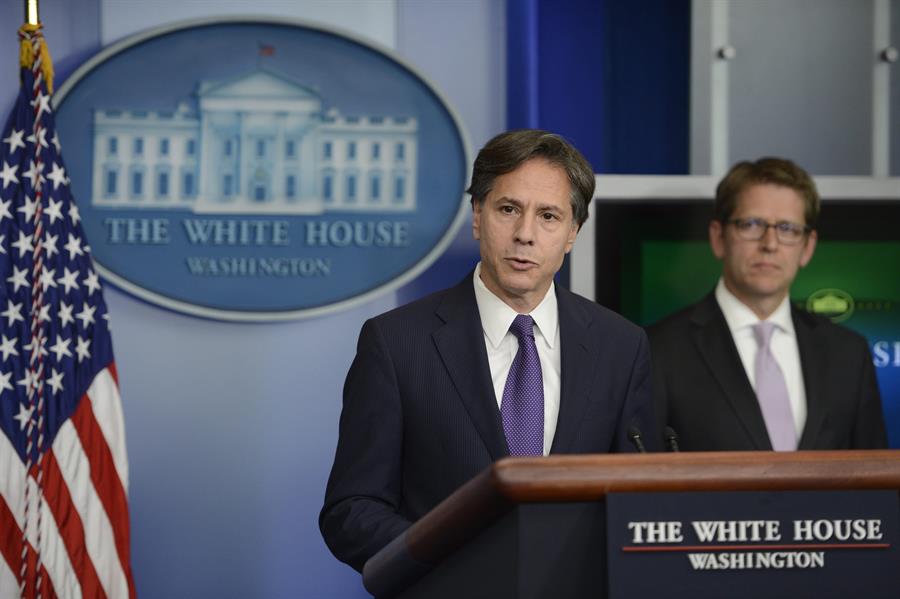 Spanish –  Confident that he will get the votes of the Electoral College to officially become the president-elect of the United States, on Monday, Joe Biden announced the nominees to form his cabinet. Anthony Blinken received the biggest offer: secretary of state. This is the most important position in the U.S. government after the president and vice president. It is the equivalent of the chancellor. But Blinken's past and his foreign policy blunders already anticipate a return to Obama-era diplomacy.
Anthony Blinken is not only one of Biden's most trusted men; he is also an advocate of multilateralism and a "committed Europhile," says Infobae. Indeed, he studied high school in France and then graduated from Harvard Law School. He got his start in politics as Joe Biden's assistant when he was on the Senate Foreign Relations Committee. Once Biden became vice president, he moved on as his deputy national security advisor. Subsequently, from 2015 to 2017, he served as Barack Obama's deputy secretary of state.
Blinken and Biden have one thing in common: sympathy for the Chinese regime. In Biden's case, his family's businesses, particularly those of his son Hunter Biden, with businessmen linked to the Chinese Communist Party, are widely known. Meanwhile, Blinken seems to have been attracted in the past by China's "anti-terrorist strategy," a policy that has led to crimes against humanity reported in the Hague.
In a 2015 statement, Anthony Blinken praised Beijing for "cautiously guarding against the growing appeal of extremist ideology among its youth. This statement stood in stark contrast to the terrible reality of China's anti-terrorism strategy, a country whose reality exposes concentration camps, forced sterilization, forced relocation, and slavery of the Uighur Muslim minority, the Washington Examiner noted.
Atrocities denounced at the Hague
Lawyers representing Uyghur Muslims filed a complaint with the International Criminal Court (ICC) last July against Chinese President Xi Jinping and other senior officials of the communist regime for alleged crimes against humanity. According to the document, the Uyghur victims were allegedly deported from Tajikistan and Cambodia to Xinjiang in northwestern China, where they suffered murder, imprisonment, torture, and forced marriage, among other crimes.
While these atrocities had not yet shown their worst face by 2015, they were already evident enough for the then U.S. Deputy Secretary of State to choose prudence. "He should never have offered such comments. Nor should he have praised in that statement China's ambitious plans to promote Asian connectivity through land and sea routes," notes columnist Tom Roganel in his article in the Washington Examiner.
For the high-ranking diplomatic position that Blinken held, this was considered "a denial of reality which suggests ignorance as to the nature of the Chinese Communist Party threat." The opinion column adds that this is "not, then, a good recipe for America's next chief diplomat."
"Blinken's record leads me to believe that China will fare well when it tries, and tries hard, to quickly suck the Biden administration back into the Obama-era appeasement circuit." The article adds that the selection of Jake Sullivan to the Department of Homeland Security will facilitate this appeasement.
Soft diplomacy against Russia and Syria
Blinken's position towards Russia is also disputed. In November 2014, months after Moscow invaded Ukraine and took over the Crimea, and after armed rebels from the Russian military spy service GRU shot down a passenger plane, Blinken was asked in Congress whether the Obama administration would provide aid to Ukraine. His answer was ambiguous: "It has never been off the table. It's something we're seeing, and in fact, the vice president (Joe Biden) is in Ukraine. Despite all the Russian assaults on Ukrainian positions, the help never arrived."
Tom Rogan's article concludes that the civil war in Syria was the biggest blot on the foreign policy of the Obama era, and therefore, on the State Department. He criticizes the fact that Anthony Blinken, as second in command of diplomacy, joined the Obama administration's chorus of hesitation. This would have allowed Vladimir Putin and Bashar Assad to impose their bloody agenda that also meant the loss of U.S. credibility worldwide.