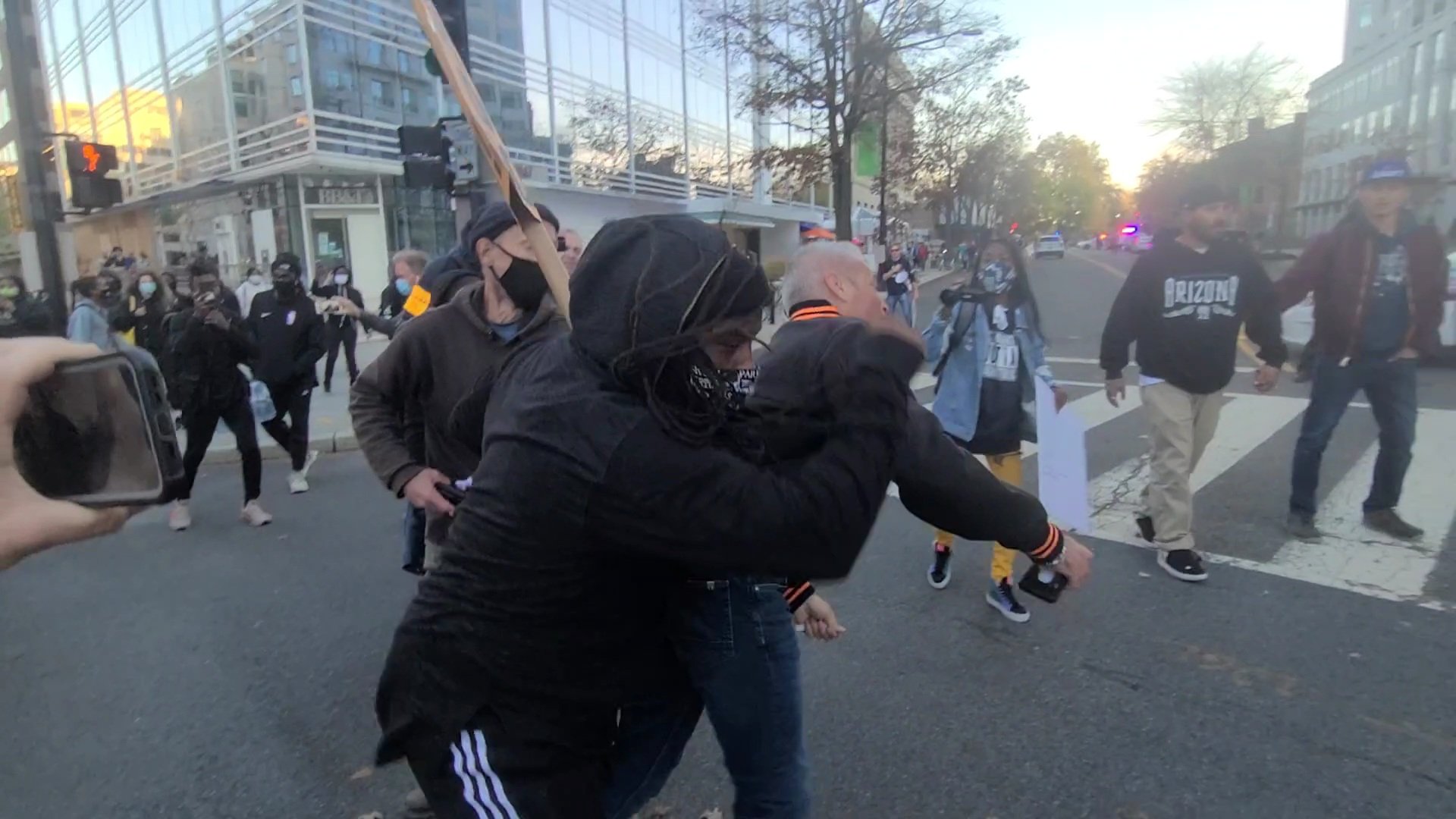 Spanish – Silence speaks louder than words. In politics, silence is an accomplice. Joe Biden's scandalous silence about the violent actions of the Black Lives Matter (BLM) and Antifa movements foreshadows a halo of impunity in exchange for permanent support in the streets. A common practice in communist regimes such as Cuba and Venezuela. As a candidate, the Democrat avoided condemning the long list of documented vandalism attributed to these groups. As a media-projected president-elect, Biden continues to turn a blind eye.
Following attacks by members of the BLM and Antifa against supporters of President Donald Trump, who took part in the 'Million MAGA March' on Saturday, Biden denounced "all acts of violence" but refrained from calling those responsible by name.
"President-elect Biden continues to denounce all acts of violence," Biden's spokesman, Andrew Bates, told Fox News. Instead, he lashed out at the protesters, labeling them and feeding the polarization. "Likewise, he also condemns the repugnant displays of white supremacy that were made in Washington, D.C., this weekend," the spokesman added, as reproduced in the Washington Examiner.
BLM attacker jailed for child sexual abuse
The "Million-MAGA March" was a mobilization called by President Trump's supporters in several cities. The main rally was held in Washington, near the White House, where thousands of people came to support the Republican leader and his allegations of fraud in the November 3 elections. The day went by peacefully until BLM and Antifa affections came generating chaos.
It was not a simple confrontation of ideas and slogans but a violent onslaught with physical attacks and destruction. Both young and old people wearing Trump badges were beaten by people who openly identified with these two groups. The brutality was recorded in videos posted by users on social networks.
Brutal assault by a violent armed group who was later arrested for assault and illegal weapon (firearms and concealed knives) charges. pic.twitter.com/vuj2Hn6hj5

— Kalen From Scriberr (@FromKalen) November 14, 2020
Kenneth Wayne DeBerry, 39, was identified as the attacker of the man who was kicked and pinched to a pulp for participating in the pro-Trump event. But this individual's behavior is not new. The BLM activist, arrested by authorities, has a long criminal record.
In 2008, DeBerry was convicted of second-degree child sex abuse in the state of Virginia, The Post Millennial revealed Tuesday. After serving his sentence, he was released from federal prison earlier this year. He is now charged with aggravated assault, disorderly conduct through incitement to violence, and possession of a firearm despite his criminal record. Multiple comments in support of BLM were found on his social networks. At the time of the assault, he was holding an "anti-fascism" poster.
Antifa's violence, which Biden calls "an idea"
The violent character of BLM and Antifa has been widely documented. A recent U.S. Crisis Monitor study states that between May 26 and September 12, 637 riots were reported in the United States, and 91% of them involved BLM. In the violent protests that took place in several cities after the death of George Floyd, Antifa emerged as a protagonist in the looting, destruction, and assassinations. In July, an Antifa sympathizer tried to stab an African-American Trump supporter to death. The victim shared a video on social media with his testimony.
I got stabbed in Portland by antifa on my way to hospital https://t.co/H745d2next

— Black Rebel (Andrew Duncomb) (@SpaceForceUSA_) July 25, 2020
Despite all the evidence, Joe Biden continues to maintain silent complicity and impunity. In the first presidential debate, the Democrats avoided referring to these movements with any adjectives. In the case of Antifa, he preferred to say that this group is "an idea, not an organization."
The facts have shown that those who make up this "idea" in conjunction with the BLM have accumulated records for public disorder, incitement to violence, looting, physical assault, murder, and now a case is added of a member of this group with a record for child sexual abuse.
Left-wing booklet: the excuse of defending social causes and minorities
Latin American societies under communist regimes such as Cuba and Venezuela have witnessed the birth of urban shock guerillas under the guise of social organizations. Thus, in the so-called "Bolivarian revolution" of Hugo Chávez and Nicolás Maduro, the 'Bolivarian Circles' were born and later renamed 'social collectives.'
These movements became the greatest expression of extreme polarization. Their " exploits " included attacks on universities, opposition demonstrations, and the "armed defense" of the "revolution," which became evident on April 11, 2002, when several members of these groups fired on the multitudinous march that was advancing towards the Miraflores Palace demanding the resignation of then-President Hugo Chávez. The day ended with 19 deaths. Although the television cameras managed to broadcast live the attackers shooting, the complicit silence of the state and impunity still reign, and the "Chavista collectives" continue to intimidate and sow terror.
Cuban interference in Venezuela has been a determining factor in the formation of these urban guerrillas. The booklet of the left is the same. To create movements that defend some social cause or a minority to appropriate the streets with this excuse and intimidate dissidents, progressively increasing their level of violence as impunity increases.
The "monster" is not created overnight. But the silence and impunity allow it to multiply its cells, to develop and to reach its maturity. Then the degeneration of the state, the suppression of freedoms and tyranny are already present without dissimulation with speeches like that of General Sixto Batista when in the first years of the Cuban Special Period, he presided over the Committees for the Defense of the Revolution (CDR), and in an interview, he jokingly encouraged the members of this organization to smash the heads of those who were hostile "in defense of the revolution."