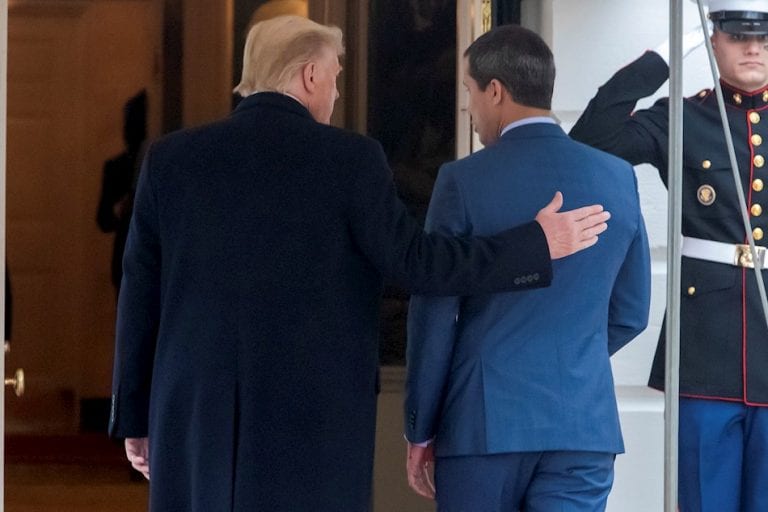 Spanish – The presidential election in the United States has put several tests: the electoral system has been questioned, the judiciary will have to respond in the coming days in an impartial and timely manner, and diplomacy was discussed this Saturday between prudence and haste.
Faced with the complex scenario, two Latin American leaders took different positions after the mainstream media and news agencies declared Democrat Joe Biden as the winner of the election. The unusual thing is that they chose the opposite path to the expected one.
The interim president of Venezuela, Juan Guaidó, was quick to congratulate the Democratic duo, dismissing the fraud denounced by President Donald Trump, who was their protector and unconditional ally. On the other hand, the President of Mexico, Andrés Manuel López Obrador (AMLO), who had disagreements with the Trump administration over the construction of the border wall, chose to give the benefit of the doubt to the Republican and not to recognize Biden until the proclamation is official.
Trump, Guaidó's unconditional ally and protector
We could say that Juan Guaidó would not be where he is today without the enormous support he received from Donald Trump. It was an unprecedented event that the White House recognized Guaidó as interim president in a matter of minutes, when he was sworn in in February 2019, invoking a power vacuum by not recognizing Nicolás Maduro's reelection as legitimate.
Washington put all its efforts into restoring Venezuelan democracy, escorting Guaidó in every decision, and encircling Maduro on all sides. It promoted Guaidó's recognition in the international community, imposed economic and oil sanctions on the regime and the dictatorship's top officials, offered up to 15 million USD for the capture of Nicolás Maduro, deployed the Southern Command in the Caribbean to block drug trafficking from Venezuela and allocated more than 1.2 billion USD for humanitarian aid through the interim government. The response was inefficiency and corruption. Trump did his homework. Guaidó did not.
Under the cover of Washington, Juan Guaidó dared to leave and return triumphantly to Venezuela twice despite the ban on his leaving the country. He was even received as head of state at the White House. The Trump administration repeatedly warned Maduro that if he dared to imprison, Guaidó he would receive a strong response. And Maduro did not dare.
Without Trump, without Guaidó, and without Biden
Despite this enormous debt, Venezuela's interim president – whose legitimacy is agonizing with the culmination of the legislative period – did not even wait for Biden to be declared president-elect by the Electoral College. It was enough that the media and news agencies projected a winner for him to rush to congratulate Biden. For Guaidó, Donald Trump was a thing of the past.
Felicitamos @JoeBiden, @KamalaHarris y al pueblo estadounidense.

Juntos trabajaremos por asegurar el restablecimiento de la democracia, la libertad y los derechos humanos del pueblo de #Venezuela. pic.twitter.com/EpXmcxTcVT

— Juan Guaidó (@jguaido) November 7, 2020
What the leader of Popular Will seems to ignore is that Biden will step aside to seek to resume direct negotiations with Maduro, according to advisors to the Democrat in an interview reviewed by the New York Times.
Biden's policy towards Venezuela would be focused on persuasion rather than imposition, a strategy that has not been successful when it comes to confronting authoritarian regimes such as Venezuela and Cuba. Meanwhile, Donald Trump guaranteed that he would continue to recognize Guaidó as interim president even after January 5, 2021, when his term as a congressman, and therefore as president of the Parliament, ends. The Constitution allowed Guaidó to serve as interim president because he was serving as president of the National Assembly.
Allegations of Fraud: What unites AMLO and Trump
Another unexpected position was taken by Mexican President Andrés Manuel López Obrador. The leftist leader did not follow in the footsteps of Guaidó and other Latin American rulers such as those of Argentina, Canada, Colombia, Chile, Panama, and Costa Rica. The prudence of Mexican diplomacy was evident despite the ideological differences.
"Regarding the elections in the United States, we are going to wait for all the legal issues to be resolved, we do not want to be reckless, we do not want to act carelessly," López Obrador said at a press conference held from the state of Tabasco, in southeastern Mexico, according to EFE news agency.
Far from ideological solidarity, it would be more about identification with Trump from experience. AMLO argued his position by recalling that when he competed for the presidency against Felipe Calderón in 2006, many rushed to congratulate his rival despite the fraud he denounced.
"We suffered a lot from the charges, from when we were robbed of the presidency one time, and the votes were still not counted, and some foreign governments were already recognizing those who declared themselves the winners. That is what happened in 2006."
A bittersweet relationship
The relationship between Trump and López Obrador has been cordial despite differences on crucial issues such as security, drug trafficking, arms sales, and migration.
During his campaign for the presidency, the Mexican leftist labeled Trump "racist." AMLO also refused to pay for the border wall as his northern counterpart demanded. Both, however, had chosen not to address controversial issues in public and to highlight the similarities.
"President Trump has been very respectful of us, and we have reached very good agreements, and we thank him because he has not been interfering and has respected us," López Obrador said to justify his moderate position.