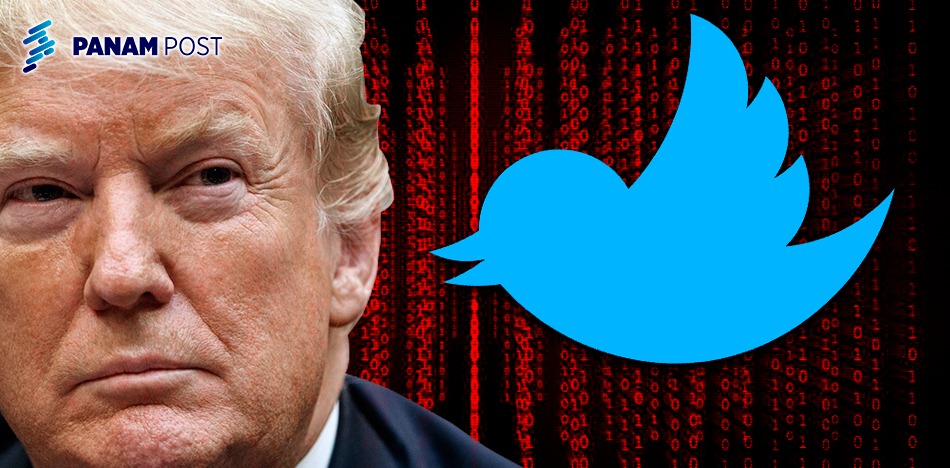 Spanish – Social networks have been selectively strict in filtering the messages posted by the president of the United States, Donald Trump. However, since the vote count began on the night of November 3, Twitter turned content regulation into a declared war. In just 48 hours, the platform led by Jack Dorsey has limited eight tweets from the Republican leader.
The road to reelection has had several battle lines. After a hard-fought battle in the electoral arena, Trump has moved the contest into the judicial arena, but not before facing a technological offensive.
Although it is not a new practice, the attack of the little blue bird against Donald Trump has intensified since November 3 at night. The alleged failure of the candidate for reelection was to have warned that votes were allegedly cast after the polls closed for "stealing the election."
We are up BIG, but they are trying to STEAL the Election. We will never let them do it. Votes cannot be cast after the Polls are closed!

— Donald J. Trump (@realDonaldTrump) November 4, 2020
Twitter cataloged this and seven other subsequent tweets as "objectionable" content, which -according to its policies- can be considered "misleading." The filter prevents other users from sharing this message.
Valid Suspicions
Jack Dorsey's goal seems to be to prevent the spread of information about suspected fraud. But the complaint does not come only from the president and his campaign team. On Thursday, the observation and transparency group, Judicial Watch, warned about the existence of 1.8 million "ghost voters. A study by this organization found that in 352 counties in 29 states, the number of registered voters is greater than the number of citizens of voting age, according to The Washington Times.
On the other hand, a U.S. Postal Service worker denounced that his superiors ordered him to collect the ballots received by mail on November 4 and mark them with the date of the previous day so that they would be included in the count in Michigan.
By early Wednesday morning, President Trump was well ahead of the game in the state. A few hours later, the trend was reversed, and Democratic candidate Joe Biden was awarded the lead. This was possible thanks to a batch of 138,339 votes that were added up, with the particularity that absolutely all were for Biden, according to Sean Davis, co-founder of The Federalist. The social network immediately put a content warning on this tweet as well.
Bursting Censorship
As expected, Trump was not silent. The candidate for reelection was denouncing one by one the irregularities detected and, in the same way, Twitter was limiting his tweets one after another.
The Republican described it as "very strange" that in the key states where he had a solid lead, it "magically" vanished as they counted ballots that arrived by surprise. The response from Twitter was to label this tweet "deceptive."
Last night I was leading, often solidly, in many key States, in almost all instances Democrat run & controlled. Then, one by one, they started to magically disappear as surprise ballot dumps were counted. VERY STRANGE, and the "pollsters" got it completely & historically wrong!

— Donald J. Trump (@realDonaldTrump) November 4, 2020
Later, Trump warned that (the Democrats) were working to make his 500,000 vote advantage in Pennsylvania disappear, as had happened in Michigan and other states. Soon, Twitter blocked his tweets,
They are working hard to make up 500,000 vote advantage in Pennsylvania disappear — ASAP. Likewise, Michigan and others!

— Donald J. Trump (@realDonaldTrump) November 4, 2020
Twitter limited another tweet where Trump said, "Any vote that came in after election day will not be counted."
ANY VOTE THAT CAME IN AFTER ELECTION DAY WILL NOT BE COUNTED!

— Donald J. Trump (@realDonaldTrump) November 5, 2020
So Twitter continued to put a content warning almost automatically any message from Trump. Among the most recent ones are one in which he announced legal actions for fraud in the last few states that are being awarded to Biden, and another in which he only says "stop the fraud."
All of the recent Biden claimed States will be legally challenged by us for Voter Fraud and State Election Fraud. Plenty of proof – just check out the Media. WE WILL WIN! America First!

— Donald J. Trump (@realDonaldTrump) November 5, 2020
STOP THE FRAUD!

— Donald J. Trump (@realDonaldTrump) November 5, 2020
The selective blocking of Twitter
This social network was also very diligent in blocking tweets to the New York Post when last October it published a journalistic investigation of Hunter Biden's emails, in which his father, candidate Joe Biden, appears to have been involved in an influence-peddling scandal with Chinese and Ukrainian companies while he was serving as Barack Obama's vice president.
Twitter argued that its policy does not allow the use of this platform to distribute content obtained "through piracy." It is worth remembering that the information disclosed by the New York Times about President Donald Trump's taxes was obtained in the same way. In this case, no restrictions were applied to its dissemination.
Twitter count suspend Trump's account if he loses the election
Jack Dorsey does not back down from his lunge against Donald Trump. On the contrary, his purpose seems to be to liquidate this war with a final battle in which he would be looking to make Trump disappear from cyberspace, or at least from his platform.
If Trump loses the election, by handing over the position in January, he would no longer have the privileges with which Twitter treats incumbents, the social media confirmed to Bloomberg.
The article titled "Twitter's Special Treatment of Trump Would End in Biden's Victory" points out that instead of labeling his tweets as "deceptive" – as has been the case – they could be removed entirely. Jack Dorsey's company anticipates that in the event of a pile of complaints, it could increase the severity of the punishment and temporarily suspend his account or even impose a permanent ban on using the platform.
It is worth remembering that the Bloomberg agency is owned by the former mayor of New York, Michael Bloomberg. This media mogul has been one of the main financiers of the campaign of the Democratic candidate, Joe Biden. In Florida alone, he invested 100 million dollars to promote the candidacy of the former vice president, and in Texas and Ohio, he made a last-minute investment in advertising of about 15 million dollars in favor of Biden.