As a region, Latin America ranks ahead of only Africa — out of seven regions — in the 2013 International Property Rights Index (IPRI), released this past week. It lags way behind its North American neighbors and, with Venezuela, also occupies the second to last slot of 131 measured nations.
The ranking measures physical and intellectual property rights and highlights their key role "not only in keeping an economic system fair and transparent but also in representing the backbone of any free market economy," says Lorenzo Montanari, executive director of the publishing organization, the Property Rights Alliance.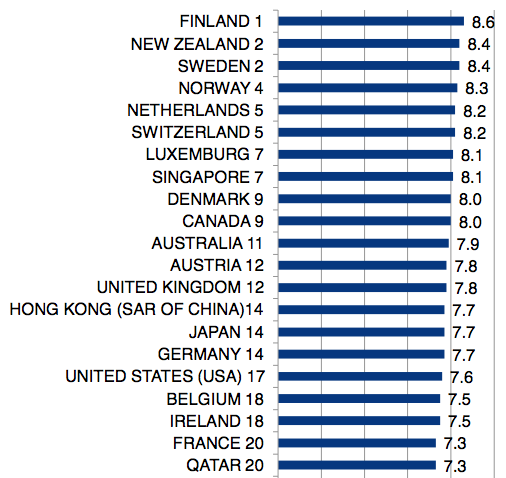 In this year's ranking, the seventh of its kind, Finland finds itself at the top of the world. Then New Zealand, Sweden, Norway, and the Netherlands round out the top five of the list that includes, according to the report, 98 percent of the world's economic activity and 93 percent of its population.
Canada, in a tie for ninth, and the United States in 17th are the best performers in the Americas. Chile is the nearest to those two, at first in Latin America and 26th in the world, followed by Puerto Rico — although technically part of the United States — at first in the Caribbean and 37th in the world.
On the bottom end of the ladder, Venezuela and Haiti are both in the worst 10 countries in the world and tied for 127th with Libya and Burundi. Only Yemen was able to edge out these four, although Cuba, as so often occurs due to a lack of data, was not able to be included.
Venezuela — dead last in the recent rankings of economic freedom — was one of four nations to receive a deeper examination with a case study in the report (p.122, PDF). The nation has suffered from what the study refers to as "a systematic policy of disregard fo​​r tangible and intangible property rights," including "legal reserve of ownership of agrarian lands on behalf of the Republic (national power)" and "seizure of companies." Meanwhile, Venezuela is currently moving forward with a highly controversial land-use law which would further centralize power and diminish both property rights and local control.
According to data provided in the index, there is a direct correlation between average GDP per capita (PPP) and protection of physical and intellectual property rights across the world. The top 60 percent of countries ranked in the survey held much higher PPP, representing between three to seven times the PPP of countries falling in the bottom 40 percent on average. More specifically, the lowest 40 percent of countries, according to their ranking, had an average PPP of US$5,342, while the top 60 percent in the survey had a PPP of US$26,886.
Hernando de Soto, president of the Institute for Liberty and Democracy in Peru and author of the index's introduction, noted its implications. "Where property rights are scarce, the consequences of operating without the protection of the law are clear to anyone walking down a city street," adding that institutionalized lack of property rights, means that these small businesses "cannot collateralize their assets to get the credit and capital needed to prosper . . ."