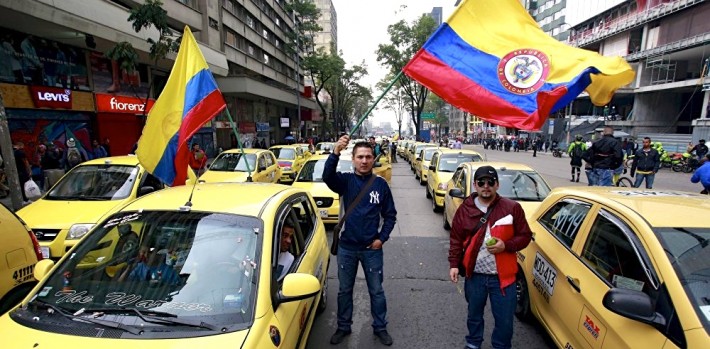 EspañolBogota's taxi drivers protested Uber last month in a demonstration that ended in a violent clash with police, and the event serves to show the taxi driver's poor standing in the community.
People have long known and suffered poor service for far too long. It's no surprise that so many of them have turned to Uber, despite its generally higher costs. The quality service and sense of security seem to be well worth it.
The discussion about Uber and other applications that are competing directly with traditional sectors — often state regulated — has to do with choice. Who should decide what transportation service should be used? The state or the individual?
[adrotate group="7″]
It's clear taxi drivers prefer the former because it maintains the status quo: poor quality with guaranteed income. But that status quo is threatened and thus, they protest.
But justifying protest — not to mention violence — because of lower revenues as a result of competition is completely nonsensical. In any society, no third party can assure an individual a sustained level of income, even less so when alternatives appear.
This kind of thing has nothing to do with what should be, but with the way societies actually work. It benefits all consumers because competition tends to reduce the prices they have to pay or it improves the quality of goods and services they buy. Often both results are presented simultaneously.
In addition, producers and service providers, even if they do not want to, and even when their personal qualities are to blame, are at the mercy of consumers. Consumers get what they want and at the prices they want.
So in the end, by the mere personal interest of increased income, a system of coordination and cooperation is set by peaceful means and without the use of force.
Taxi drivers have done the opposite. They expect their incomes to remain the same not because of efforts to maintain or improve their service, but because they feel they have a sort of vested right to it.
Since the state cannot ensure the removal of Uber or guarantee an income level, they see no other option but to resort to violent protests.
Taxi drivers and some of their allies say Uber is illegal. But they're just confused: something extralegal isn't necessarily illegal. Innovation is within the law, especially since the law cannot predict future innovation.
But taxi drivers want to say these innovations are illegal, not extralegal. That is to say, they don't break the law, but are rather not yet considered within the law as it currently exists. They are, simply, actions that have not been considered by the current legislation.
Now, if they were to be directly against some current regulation, then they would be illegal. Because that isn't the case, taxi drivers don't have a leg to stand on in this argument. In this case, they can't stop someone from legally spending their money as they so desire. That would be against the law in itself, violating some of the most fundamental beliefs we live by in society.
Innovations are unstoppable. Even when persecuted and with obstacles imposed, competition will continue to appear.
Any sectors' privileges and dominance cannot be eternal.