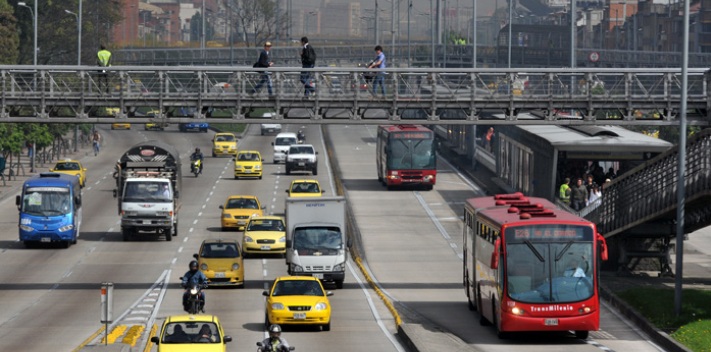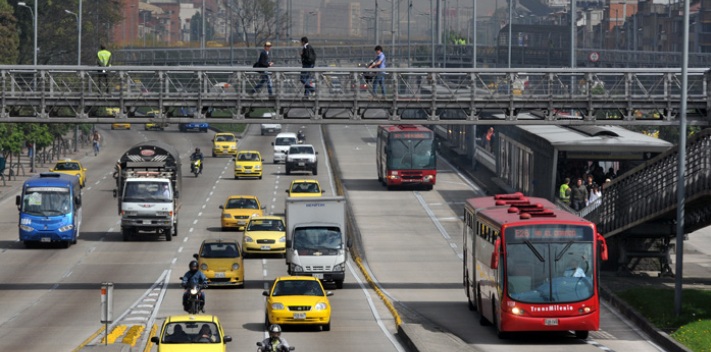 EspañolCongestion is the norm in Bogotá. If you drive a car during the day, odds are you will be late to your destination, unless you depart hours in advance.
The Bogotá mayorship is now trying to deal with the situation by proposing congestion charges in certain parts of the city. At plain sight, the measure seems adequate and harmless. Beneath the surface, however, the arguments crumble. Clearly, the state apparatus is unable to learn from its own mistakes once again. Potentially, the policy will fail because its aim is to discourage the use of private automobiles, which bureaucrats regard as the main cause of congestion in Bogotá.
Even if that were true and there is an excessive amount of private cars moving around the city, the question would be: why is this the case? Local authorities apparently assume that individuals can't take the right decision — that is, using public transport — on their own. In other words, the mayorship thinks that Bogotá residents love traffic jams, arriving late, and needing three quarters of an hour to complete a journey that should last a mere 10 minutes.
Bureaucrats also assume that the alternative is obvious: public transport. In reality, however, this alternative is not so obvious.
Public transport in Bogotá does not cover the entire city. It's dangerous, uncomfortable, and the service is terrible. The city administration hasn't even been able to complete the much celebrated Transmilenio bus system. The metro, meanwhile, remains unbuilt; it's still a subject of fantasy despite the numerous studies funded with taxpayer money.
Another option might be to walk or ride a bicycle to work. But the city is unsafe, and distances are quite long, so that this alternative is viable for a minority that is nonetheless growing.
So one might think that people will continue to use their cars even if they must pay a congestion charge. This is not because they are selfish or thoughtless nitwits. Rather, they have no real alternatives. If they have to pay COL$6,500 (approximately US$3) in order to pass through certain areas, their incentive will be to take other routes, which will become congested. Odds are that they won't begin to use public transport.
The congestion charge measure is based on weak or even false assumptions. What is worse is the state's incapacity to learn from its own mistakes. Public transport can be improved not only by raising its quality or by building the appropriate infrastructure, a task which shouldn't necessarily be left to the state. Nor is it only a matter of realizing that, if you improve urban security, you incentivize walking, cycling, and the use of public buses.
[adrotate group="8″]
Bureaucrats should also realize that spontaneous innovation can also reduce congestion. This is the case with Uber. The Colombian state, however, is trying to stifle innovation by strengthening crony capitalism.
On November 23, the government announced that it would pass a decree to regulate the "luxury taxi" industry. This decree will stamp out innovation, since it will impose specific conditions on companies like Uber.
For instance, those operating "luxury taxis" will have to register as official transport companies; they will have to use specific vehicles, which must be black in color; their drivers will have to be registered with the city government and submit themselves to training. In other words, the state aims to do away with Uber, since it believes that decrees improve quality.
Uber, however, has demonstrated for over two years that quality of service improves with innovation and self-regulation, as users rate drivers and those who fail to satisfy customers are removed from the system.
The government's decree, a prime example of crony capitalism, is designed to protect the taxi monopoly's interests. Its leaders, who behave like mafia bosses, are understandably quite content.
When President Juan Manuel Santos and Vice President Germán Vargas Lleras announced their decree, they were photographed next to Uldarico Peña, who controls Bogotá's largest taxi company. This is why the measure absurdly forbids any service from charging less than yellow cabs. This is why taxi permits, which create scarcity in the market, are kept in place. After all, a significant part of Peña's business consists in selling said permits.
As things stand, a policy based on weak assumptions and the Colombian state's perverse logic will surely fail. The quality of no service will improve by decree, and congestion charges won't lead to new alternatives to the use of private automobiles.
As is usually the case with state intervention, things will probably get worse.