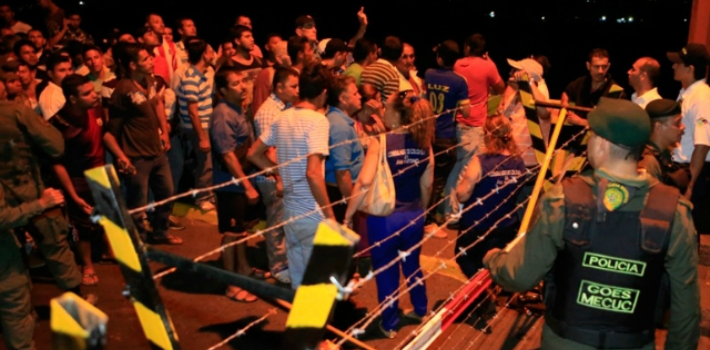 EspañolThe crisis on the border shared by Colombia and Venezuela continues. The Colombian government's strategy has been to resort to multilateral organizations in order to bring to light the Venezuelan government's excesses.
This strategy, however, has failed. At first, Colombia thought of UNASUR as the ideal stage. Nonetheless, UNASUR's ineffectiveness was to be expected.
First of all, this is an organization created on the particular initiative of the Venezuelan government, which sought to work together with other states that share the philosophy of 21st-century socialism. Second, UNASUR's objective is not to appear neutral, nor does it seek to solve problems between nations. It is rather an international instrument of the governments whose interests it represents.
Third, Ernesto Samper Pizano, UNASUR's current secretary general, is Colombian, but he has been closely linked to Latin America's Marxist and populist left. This explains his recent declarations in support of the Venezuelan regime's actions against Colombian citizens.
Clearly, Colombia had nothing to gain in UNASUR. Colombian diplomats therefore resorted to the Organization of American States (OAS) in spite of this institution's deep legitimacy crisis. In Latin America, the OAS has come to be regarded as nearly irrelevant.
[adrotate group="8″]
Nonetheless, Colombia promoted a vote that, if successful, would open the possibility of holding a debate between ministers of foreign affairs concerning the crisis with Venezuela. The result was a bittersweet setback for Colombian diplomacy. It was sweet insofar as Colombia obtained 17 of the 18 necessary votes. It was bitter, because, in the end, it was a defeat.
Now Colombia is contemplating the possibility of taking the matter to the United Nations. It would seem as though the Colombian Foreign Ministry's logic were something along the lines of: "if the crisis with Venezuela is irrelevant at the regional level, we should take it to the global level."
Colombian diplomats therefore assume that countries like China and Russia, Venezuela's allies, will accept discussing the current problems. They assume that the humanitarian emergency on the border will eclipse similar crises in Syria and Sub-Saharan Africa, or the grave situation that has arisen as a result of the Islamic State.
The result of the vote at the OAS is unfortunate, but the discussion should not center on such international institutions' "electoral" processes. Neither should we dwell too long on the effectiveness — or lack thereof — of Colombian diplomacy.
From Colombia's perspective, the debate should focus on the concrete results of President Juan Manuel Santos's foreign policy. When he came to power in 2010, he promised that reestablishing diplomatic relations with neighboring countries, beginning with Venezuela, would be quite advantageous for the country.
Five years later, trade with Venezuela is depressed, political interaction at high and intermediate levels has come to a halt, there is hardly room to cooperate, the border is closed, and Nicolás Maduro's government is expelling innocent Colombians from the country. That is to say, the policy of not upsetting Venezuela's dictatorial regime opened the door to all types of abuse. Colombia has accrued no benefit from Santos's foreign policy.
Seen from a global perspective, the debate should revolve around the role of international organizations. Those who still hold a romantic view of such institutions should become aware of their irrelevance or their inability to solve international problems. Their neutrality is a myth, as is their expertise on global issues and their supposedly altruistic concern for humanity's suffering.
These are simply places where the world's governments can convene. In other words, they are a reflection of governments' interests. But these organizations also develop their own interests, which arise from their bureaucratic nature.
As a result, there is a clear structure of incentives inside international institutions. On the one hand, there is no doubt that the Venezuelan government's actions against thousands of people are grave violations both of their basic rights and of public international law.
On the other hand, states have no interest in discussing this problem. If they did, they would create precedents which would impede their future actions against immigrants. Nor do the international organizations' bureaucrats have an interest in discussing excesses committed against migrants. If they did, how would they justify their own work in the future?
The crux of the problem is that migrants are a problem not only for the Venezuelan dictator, but also for nearly all heads of state the world over. Those who leave cause a "brain drain," and those who arrive a potential immigration crisis.
Colombia's failure is not only the result of its foreign policy; it also points to human nature. Men and women have the desire or the need to move across borders, but this is now seen as a crime, or at least something undesirable.
The vote against Colombia in the OAS is a new triumph for statism and its vision of the world as a place divided by artificial yet all too real borders. In the immediate future, states' measures will continue to limit human action and to separate individuals from one another.