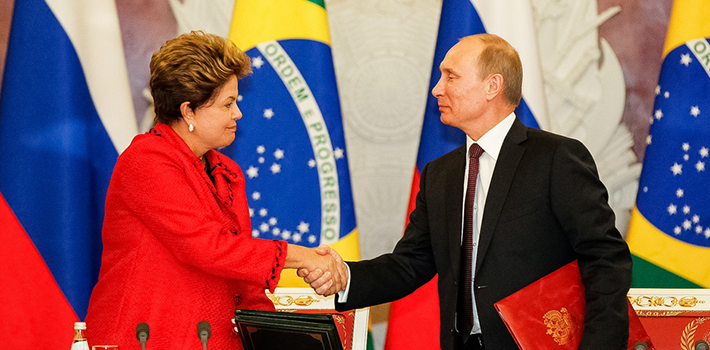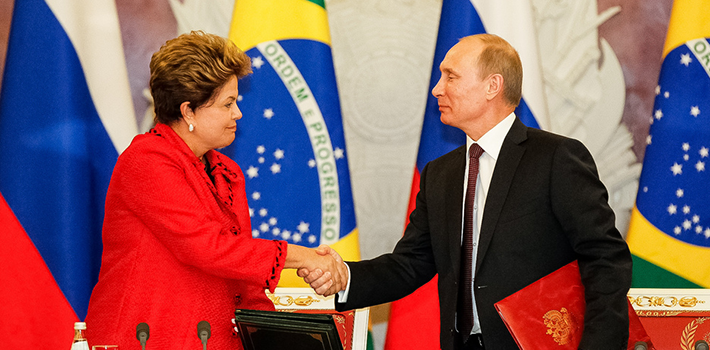 EspañolPresident Vladimir Putin of Russia and China's Xi Jinping are currently touring Latin America, taking advantage of their time while in the region for the summit of BRICS nations (Brazil, Russia, India, China, and South Africa) held in Brazil from July 14 to July 16. Although these diplomatic relationships in the region are nothing new, the breadth and scope of shared interests are a new development. Xi will visit Brazil, Argentina, Venezuela, and Cuba; while Putin will visit all of the previously mentioned countries, except for Venezuela, traveling to Nicaragua instead.
China's primary goal in this is to strengthen the BRICS member nations. In doing so, it will look to create a new international development bank (yes, another one) and a new foreign currency reserve to face any potential currency exchange crisis (yes, another one). China also hopes to launch the Chinese forum CELAC (yes, another one) to encourage bilateral cooperation.
Russia's economic interests focus on the petroleum and nuclear energy arena. It's political goals are to counter pressure from Europe and the United States in response to the Ukrainian crisis and to create new allies (subjects?). Russia's commercial interests are limited to weapon sales, commercial aviation, and highway construction.
Some have suggested that these moves signal more of a strategic approach, and both China and Russia are looking to position themselves as global powers. If that's the case, then what is Latin America's interest in these two countries? In particular, what are the countries of 21st Century Socialism looking for?
It appears that Latin-American countries have two objectives. The first is to increase international cooperation. In other words, they are looking to receive more resources donated from other countries.
Bolivia and Peru will attend the meeting with a busy agenda and a list of handouts they will demand as part of the international cooperation between the nations. Colombia will attend the meeting because they consider their country's participation in the development bank to be important, and because they will hold a meeting with the "successful" leaders of Cuba, Venezuela, Ecuador, and Brazil.
President of Nicaragua Daniel Ortega thanked Vladimir Putin for his donation of essential goods in generating development in his country: buses, weapons, and the construction of a new training center for the war on drugs. Venezuela has benefited from its relationship with Russia through its assistance with their agriculture and livestock industry and the Misión Vivienda state-run housing program. Argentina was rewarded with a nuclear cooperation agreement — for peaceful purposes, of course.
For its participation, Cuba was given (just how they like it, for free) a US$35 billion debt forgiveness. Cuba and Nicaragua will also receive Russian GLONASS satellite positioning stations, something Argentina may soon consider and Brazil already counts on.
Latin-American countries have the same interests in China. They all seek cooperation, gifts, and handouts: Argentina in trade, agriculture, finance, and infrastructure; Venezuela and Cuba in biotechnology, education, and culture.
The second objective is to build alliances that perpetuate the implementation of false ideas to ensure no critical position remains in their way. Not only do these nations reject democracy, human rights, and capitalism, but they also congratulate each other for useless processes of integration, executing failed policies, and pointless international proposals, to say the least.
They pretend to fight the international financial system that they supposedly hate, and yet still rely on. The same system that, due to their own mistakes, then bankrupts their countries. Argentina is looking for the explicit support of both visitor nations in its absurd fight to — without euphemism — rob their investors of their money.
They support each other in making the same mistakes that prevent them from solving international problems. The World Bank doesn't work? They create another one. The International Monetary Fund doesn't work either? Same thing. They envision a supposed democratization of international organizations, where they look for new scenarios to make the same mistakes and have others pay for them. They aim to step around international public justice, just as the Kirchner administration looked to do when it asked for the Russian government's support in the Falklands conflict.
They do not realize that their statist visions of development and this form of international alliances impede economic change, destining themselves to the role of exporters of basic goods (as shown here and here) and regretting it later. Instead of having the autonomy they yearn for, they become subordinate. China criticizes Brazil's protectionist policies, establishes infrastructure and mining priorities in Argentina, reviews Cuba's economic and migration reforms, and even expects to have a say in Venezuela's internal affairs.
So, what are Latin America's interests? Disguise the failure of past decisions, find new actors on which to depend, and prepare to blame their new scapegoats for the failures of the future.