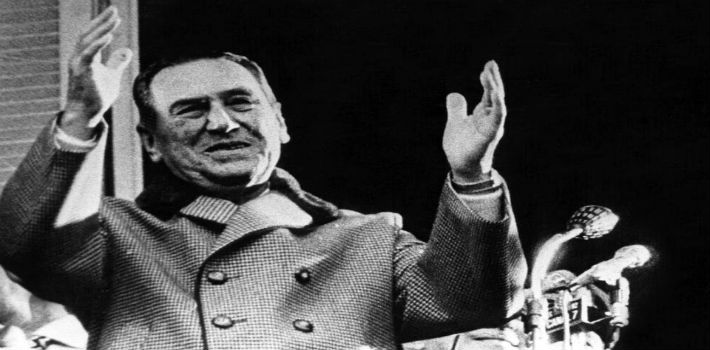 Español Spain's populist party Podemos has been considering bringing Peronismo to its country.
Pablo Iglesias said recently that Podemos has Peronist traits, and while that may be true, it would be very bad news for Spain if Podemos were to be implemented with any success.
Peronism is a political movement that began with Juan Domingo Perón during the 1940s and that marked a before and after in Argentinian society. In economics, Perón's government has the dubious merit of being the first government that took inflation over 50 percent in 1951.
As a defining trait, Peronism was always critical of capitalism. It also loved public spending and price controls. Peronism cultivated the sad phrase "living with what's ours," which referred to limiting international relations.
Until some months ago Peronism enjoyed great health in Argentina. As explained by Emilio Ocampo, since democracy came back in 1983, 76 percent of the time the country was ruled by a Peronista president. Between 1989 and 1999, Menem raised the Peronist flag. From 2002 to 2015, the task went from Eduardo Duhalde, Néstor Kirchner and Cristina Fernández de Kirchner.
Even though there were differences in between these presidents, they all came to power by their links and in defense of Peron's party. Menem's Peronism privatized companies and kept a fixed exchange rate with the fiscal deficit. Duhalde's Peronism abandoned the "1 to 1" and greatly depreciated the currency, but managed a fiscal surplus. The Kirchner's Peronism was the most similar to that of the '40s and '50s: inflation, price controls, closing the economy and a deep destruction of the institutional and business climate in the country.
During the same period, some of the countries in the region took a different turn. Chile, Perú and Colombia realized progress came hand in hand with open trade, better fiscal balance, lower inflation and lower public debt.
To summarize, more closeness to capitalism and respecting republican institutions.
The results of the paths taken can be seen in the chart below. There is an evolution of GDP per capita in each of the countries from 1983 to 2016 according to estimations and projections of the IMF.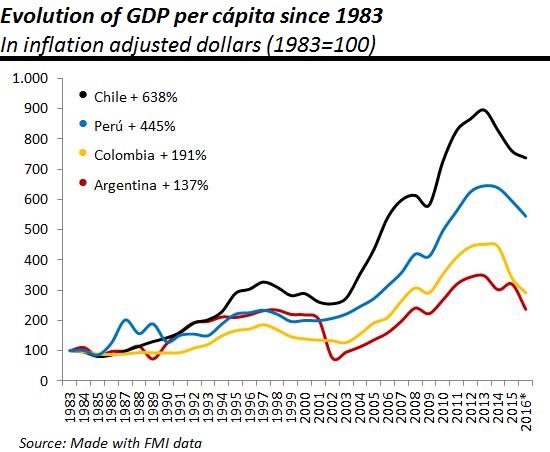 The country where average income has grown the most is Chile, which passed from having a GDP per capita of USD 1,754 to a 12,938. The variation resulted in a spectacular 638-percent growth. Second was Perú, whose GDP per capita grew 445 percent. Afterward came Colombia, with an increase of 191 percent and fourth was Argentina — the country that had been the richest since 1983. That year, Argentina had a GDP per capita of USD 4,244, while the IMF  projects about USD 10,051 for 2016 — 22 percent less than that of Chile's.
Some may think this poor economic performance has its upside in a good social performance, as if they were interchangeable. But that's not the case. From 1968 to 1989, poverty in Argentina affected 14.7 percent of the population. However, from 1989 to 2015 it duplicated, averaging  29.7 percent.
Peronism was devastating to the Argentinian economy. If our wealth had grown at the pace of Peru's, Colombia's and Chile's, we would have an income akin to that of a European country. Political rivals of Peronism have their share of responsibility. As critical as they were, none reject firmly the flags of the mythic populist Argentinian movement.
The economic wreck Peronism brought in our country is in plain sight. In light of this, it's hard to decide whether to laugh or cry when it is taken as an example to follow.