EspañolThe release of Chile's economic indicators for the month of April has raised serious concerns over the future of the country's economy. According to IMACEC index, economic activity rose by just 1.7 percent compared to the same month a year ago, below the expected figure of 2.2 percent.
With economic estimates that forecast further stagnation, there is much debate over how to rebuild confidence in the private sector and boost investments. The uncertainty generated by President Michelle Bachelet's proposed reforms has made investors want to wait to get a better picture of the future before putting their money in the country.
However, uncertainty is not the only factor that could prevent the economy from expanding. The tailwind that has benefited Chile over the last few years is beginning to die down.
To determine whether the wind is blowing in Chile's direction or against it, we need to analyze two important variables: commodity prices and long-term international interest rates.
Prices are no minor issue, given that 45 percent of Chile's exports depend on copper and gold. As for the interest rate, the most commonly used is the US Federal Reserve 10-year rate. In simple terms, increases in the price of gold and copper and lower interest rates play a crucial role for Chile's tailwind.
Using 1994 as base year, we can forecast Chile's economic future by subtracting the evolution of interest rates from the evolution of commodity prices.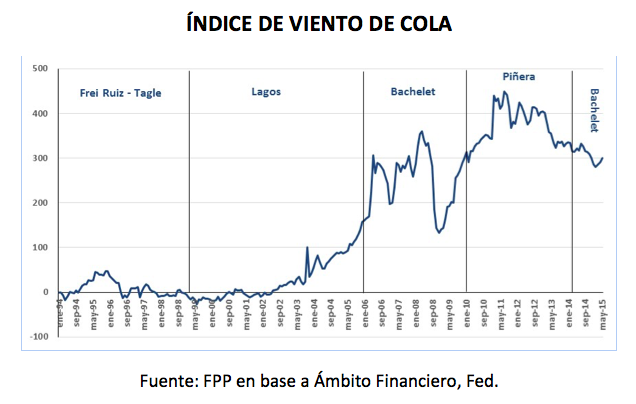 While May and June show some recovery, the trend demonstrates that the tailwind is on the decline. Furthermore, it is expected that gold and copper prices will continue to drop, while the Fed is considering raising interest rates. Both factors would further diminish the tailwind Chile has enjoyed.
The international economic environment will not be as favorable as it has been in previous years, not for Chile, nor for the rest of the region. This is why it's so important to remove the uncertainty from the country, so private investment can resume and allow the economy to start growing again. Given this scenario, the role of the business community becomes increasingly important for the development of the country.