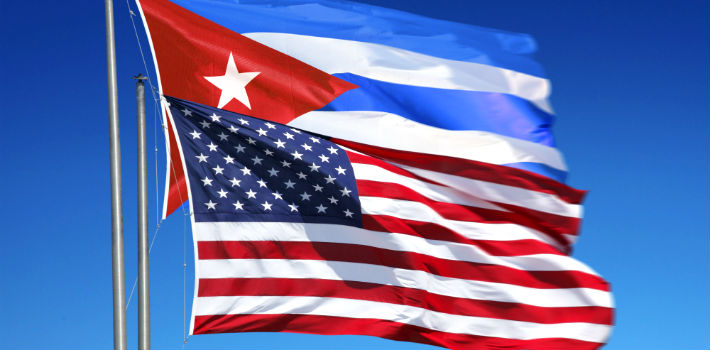 EspañolOn July 2o, after decades of hostilities, Cuba and the United States officially renewed diplomatic relations by reopening embassies in each country's capital.
The critiques of this rapprochement have been varied: while some doubt the Cuban government's good will and believe they will continue aiding terrorists and violating human rights, others claim the shift led by President Barack Obama makes the United States look weak before an old enemy.
While these may all be valid points, there is another that has been woefully ignored.
As 21st-century socialism advanced throughout the continent in the early 2000s, and tensions between Cuba and the United States were at their peak, anti-US sentiment spread across Latin America like wildfire. The Cuban government fed fuel to the fire by pressuring countries that were unwilling to adopt the socialist model by means of espionage and financing terrorist organizations.
Many countries eventually succumbed to their influence, but a few resisted. Colombia, Chile, Mexico, and Peru, for example, refused to change their economic policies and defended their democracies and rule of law.
In fact, not only did these countries resist, they progressed. By steering clear of failed models, these nations were able to pursue promising projects, such as the Pacific Alliance trade bloc. It should have come as no surprise to US officials that their country was not invited to participate.
During the period of 21st-century socialism's greatest expansion, these countries stood their ground, without much help from their supposed allies to the north. Preoccupied with escalations in the Middle East and Eastern Europe, the United States practically abandoned these Latin American countries to fend for themselves.
Nevertheless, these countries did not cave to the Chavista pressure backed by Havana. Following years of tremendous indifference, the expectation of support from the United States soon faded away.
However, it is one thing to be indifferent, and quite another to be insulting. For those countries that resisted 21st-century socialism, the shift in US diplomatic relations with Cuba is a slap in the face. The US government has chosen to disconnect from reality and even gone so far as to claim that Cuba does not support terrorist organizations.
For the Obama administration, renewing diplomatic relations with a bankrupt dictatorship is apparently more important than supporting its supposed allies, who are regularly harassed by the same regime it now embraces.