EspañolFollowing a wave of corruption scandals implicating government officials across Latin America, confidence in the region's leadership has plunged. Corruption is a vice the region cannot seem to shake — its crippling effect on governance has been present since the days of independence. Time and again, citizens have placed their trust in the state to solve social and economic problems, only to be disappointed by the failure of politically driven and band-aid solutions.
The long-term implications are apparent: entrenched criminal activity and hampered productivity that have stifled development. The Inter-American Development Bank expects regional growth to be around 2 percent this year — a far cry from the 4.9 percent average in the five years prior to the 2008 financial crisis.
Colombia, Chile, and Peru are the few bright spots keeping the region's growth rate out of the red, but this situation is precarious. It is vital to protect the institutions of democratic governance and ward off the evils of corruption so as to continue on the path of growth and stability.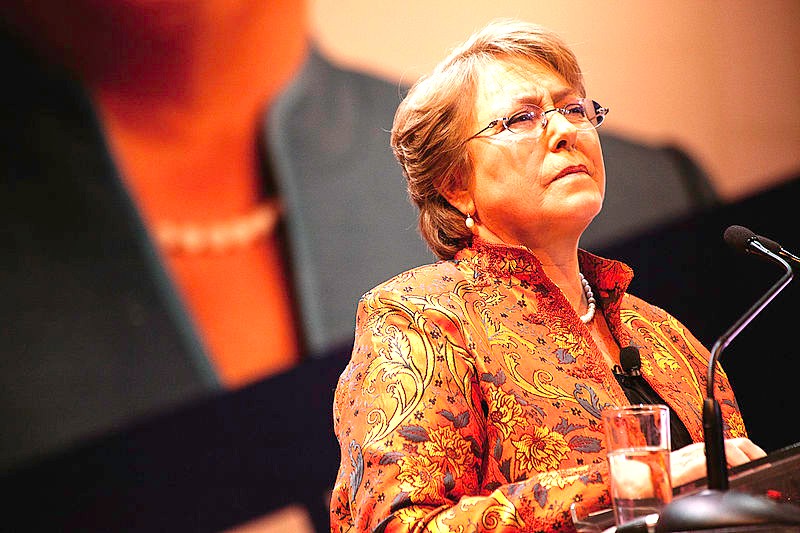 Latin America consistently ranks poorly in Transparency International's Corruption Perceptions Index. Venezuela is perceived as the most corrupt in the continent, ranking below 130 countries last year. Chile and Uruguay stood significantly above the rest, tying at 21 out of 174.
Yet Chile's high standing hangs in the balance, as the administration of President Michelle Bachelet faces criticism for alleged influence-trafficking. Lower-ranking governments are also under fire, with Brazil's President Dilma Rousseff suspected of knowledge in the illegal activities of the Brazilian state oil company Petrobras.
Many meanwhile believe that Argentina's President Cristina Kirchner (despite a recent judicial decision in her favor) was complicit in the death of prosecutor Alberto Nisman, who was set to testify against her. With corrupt politicians in key positions of power throughout the region, crimes by state officials continue to go unpunished.
Crime and Punishment
Government ties with organized crime only exacerbate insecurity. It's no surprise that, given the unreliability of state institutions, Latin American countries are among the most dangerous in the world. The continent has overtaken Africa in the number of murders since 2012, according to the United Nations Office on Drugs and Crime.
Venezuela and Honduras are by far the worst performing nations with 54 and 90 murders per 100,000 inhabitants in 2012, respectively. Ineffective justice systems and corrupt security forces have resulted in rampant impunity and escalating crime rates. Most of the countries with high homicide rates are those that are more concerned with an ideological and political agenda than with the safety of their citizens.
The international community can help by pressuring and incentivizing governing elites to adhere to the rule of law and punish illegal activity.
Chavismo — the Venezuelan formula developed under former president Hugo Chávez for perpetuating his party in power through populism and stringent economic and social controls — has infected much of the region and weakened economies.
Current leaders in Bolivia, Ecuador, Nicaragua, and Argentina are among those that have supported the 21st Century Socialism agenda and received significant financing from the Venezuelan government for presidential campaigns in return.
The cornerstone of successful growth for the few healthy economies in the continent has been prioritizing safety — it's hard to do business while dodging gunshots and seeing your earnings siphoned off by criminals. Chile has fewer homicides inhabitants than the United States, while Peru saw fewer than 10 murders per 100,000 inhabitants in 2012. Colombia, in particular, is the poster-child for crime reduction: in the decade beginning in 2002, the country reduced its murder rate by more than half to 31 per 100,000 inhabitants.
Turning the Page
Yet the Colombian government stands at a crossroads as it takes new steps towards a peace treaty with guerrilla group FARC. Should the talks in Havana and an ensuing referendum on whether to ratify them be successful, the government will have to ensure that former guerrilla do not weaken democratic institutions as they are absorbed into the system.
Any possible ties with organized crime by the newcomers to the political arena need to be nipped in the bud through proper checks and balances. Should former militants make any inroads in changing the government's priorities, growth will be stunted.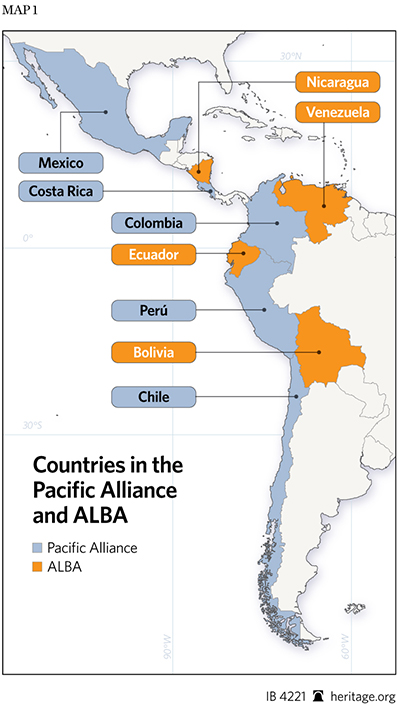 Adhering to similar values of governance and economic trade, Chile, Colombia, Peru and Mexico have all joined the Pacific Alliance. The first three countries have benefited from several decades of economic growth and a resulting increase in stability. Recent corruption scandals threaten the continuation of this trend, and will tempt politicians to adopt populist policies that provide short-term solutions and secure votes.
Chile and Peru need to return to the market-oriented economic policies that catalyzed their skyrocketing growth. Colombia meanwhile has to strengthen its institutions to be able to bear the expanded base of political actors as it attempts to close the final chapter of civil war. Confidence in state institutions needs to be re-established through significant progress on transparency and accountability.
Latin American citizens have taken to the streets to protest against their leaders' corrupt activities, and the international community can help by pressuring and incentivizing governing elites to adhere to the rule of law and punish illegal activity.
If those countries that line the Pacific coast can secure long-term success, it may bring about a change in their neighbors, as their citizens clamor for the growth and prosperity they are currently being denied.
Edited by Laurie Blair.