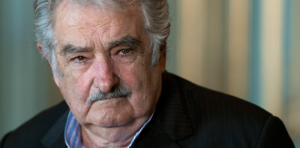 EspañolUruguayan former president "Pepe" Mujica's resemblance with Ellsworth Monkton Toohey, one of the protagonists of Ayn Rand's novel The Fountainhead, is amazing. The author put into the mouth of this sinister character the following thought: "He is so innocent he believes that people move primarily for money."
People do not perceive that there is an even more dangerous addiction: power. Those interested in getting to power have to make a "philosophical perspective" of the world. Moreover, they tend to change the meanings of the words to the point of "denaturalizing" them; for example, by stating that by working less, someone can "win" more from life.
These vain people often have an inferiority complex. Therefore, their "weapon" is to devalue all of those who are more educated, capable, creative and entrepreneurial. Their goal is to control the minds of the masses to govern them absolutely. They seduce with words, and that's why their audience overlooks the inconsistencies, ambiguities or fallacies of their speech.
Mujica is admired around the world. He is able to fill stadiums for speeches. Many of the measures he approved got the attention of the international media. However, only a few have paid attention to the calamities that occurred once the lights and the microphones were turned off.
Back in 2010, Mujica promoted the sugar industry in Uruguay, a country that is not suitable for such cultivation. To give it profitability, he built the electric power plant of Uruguay Alcohols (ALUR). Later, he added two biodiesel plants to the project.
At the opening ceremony of one of the aforementioned plants, Mujica thanked "those who, in the years of disbelief, intellectually fought to keep sugar cane in a country that aimed to end it and prioritize other things happening in the world."
He also thanked his "dear friend" Hugo Chávez for financially supporting this initiative.
Through the adoption of the law on fuels, oil state monopoly ANCAP was forced to buy ALUR's entire production. Thus, Mujica's whimsical undertaking exhibited formidable income on its balance sheets.
However, Uruguayans recently found out that this sugar and alcohol business has been ruinous for the country. To create the illusion that it was profitable, ANCAP paid ALUR for bioethanol three times its international price. Their managers received salaries ranging from US $6,200 to $10,857 per month. In contrast, the cane cutters (who work 12 hours a day) only receive $425.50 per fortnight.
Currently, ANCAP and ALUR — 91 percent of its shares belong to ANCAP and nine percent to Petróleos de Venezuela — are being investigated for alleged corruption in Uruguay's specialized court for organized crime. The judge in charge authorized lifting both tax and banking confidentiality of all its directors and general managers as well as those of the companies that negotiated with the agency between 2005 and 2015.
Besides that, and shortly before leaving office in March 2015, Mujica encouraged the cancellation of the debt of $31.5 million — plus interest — that Cuba had with Uruguay. This was approved in "solidarity" with the Cuban regime.
Uruguayans suffer from constant increases in taxes and in the prices for monopoly state services. But the icing on the cake has been that fuel prices have fallen sharply around the world, except in Uruguay.
Another revealing indicator is the government's economic strangulation against the judiciary. Mujica clashed with the Supreme Court because it declared several laws he promoted as unconstitutional. Many of these attacked private property.
It might be a coincidence, but the judiciary had no budget increases during the last two years of Mujica's government, nor in the current budget of President Tabaré Vazquez. President of the Court Ricardo Pérez Manrique warned: "We are working with the budget of 2010, so funds are obviously insufficient to maintain a normal service."
The most notorious of Mujica's failed initiatives has been the "school of Pepe". This agrarian school opened in March 2015 at the request of Mujica, who donated the land to build it. A crowd of journalists were present in the opening event, as well as the Russian film director Emir Kusturica, who was filming a documentary about Mujica.
In his speech, Mujica asserted: "None of these things will transform the world. Thousands of these are required. Each person, in their own sphere, has to do something for others. This is an invitation to show solidarity."
Eighteen months later, wastewater flooded the classrooms and classes had to be suspended. Many of these problems are a result of building a school in a warehouse that is not suited for such a thing. The facilities are poor, it does not have sanitation services, it has electrical problems and workshops do not have good lighting.
Mujica defends an ideology that promotes a world where no one can stand out over others for his virtues and talents. He presents it as an ethic of high moral order. The enthusiasts of the "Mujica philosophy" should reflect on what Ayn Rand said: "The leaders of collectivist movements ask nothing for themselves. But look at the results."