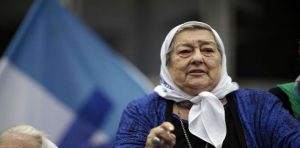 Hebe de Bonafini, one of the founders of the Argentinean NGO Mothers of the Plaza de Mayo is commonly known as a human rights activist. But is she?
Bonafini came to fame during Argentina's last military dictatorship between 1976 and 1983. Her son was arrested for unclear reasoning, so she peacefully conducted a series of demonstrations and other efforts to have him rescued.
At a time when most people lived among ignorance, indifference and fear about what was happening in their country, the mothers that rallied around Bonafini showed admirable courage. They gathered every Thursday in the Plaza de Mayo in front of the president's house, in hopes of being received by de facto President Jorge Videla.
Their presence irritated the regime, who eventually sent police down to intimidate them. The military even abducted some of them as a warning.
In 1981, they began an annual "Marches of Resistance," to fight for effective human rights in Argentina.
Once democracy was restored, the Mothers of the Plaza de Mayo turned their energies on making human rights violators pay for their actions. Moreover, they wanted to expose the truth about what happened in the country during those dark times, and receive economic compensation for the victims and relatives of those who had disappeared. Hebe de Bonafini became the most visible person of that movement.
But does that circumstance alone makes her an activist for human rights?
In a full sense, the term refers to an advocate of inherent dignity, and the inalienable rights of every human being. It also refers to people who denounce every dictatorship, no matter on what basis it may subjugate and torment its citizens.
Human rights advocates do not believe in the "collective." Rather, we think that each person moves according to his or her own interests and incentives.
In the case of the Mothers of the Plaza de Mayo, the purpose was to rescue their children. The defense of human rights was only an additional element; one more argument to reach that common objective.
After the terrible tragedy she suffered, Bonafini could have become a real human rights defender. She has recognized the important role the Dutch Association of Women (SAAM) played in helping her promote their cause and ease her pain.
"The Dutch Women contacted us as soon as they saw us around," Hebe said. "Until then, nobody knew us and we had been protesting for more than a year."
But Hebe has not been the person she seems to be. Her indifference and even cruelty displayed toward the pain of others is frightening. For her, only some people are worthy of enjoying human rights.
Hebe condemned the United States for torture activities, and teaching other nations how to do it. Also, she praised Fidel Castro, who was doing a similar thing.
She has gone on record supporting violent groups like ETA and FARC. Moreover, she pontificates about who "deserves" an atrocious death and who does not.
Right after the attack on the Twin Towers in New York on September 11, 2011, she said:
So when the attack happened […], I felt joy. I will not be hypocritical, it did not hurt me at all. […] Poor people did not die there [in the Twin Towers] […] The day of the attack I felt there were very brave men and women […] who declared war with their bodies, and crashed a plane to cause damage to the world's greatest power. I raised a toast for my children, for so many dead, against the blockade, for everything that came to my head at that moment."
That day, 2,992 people of all nationalities, religion, and social status were killed: women, children, babies, men, the elderly; rich and poor; white and black. Among them, 247 were Latin Americans.
On another occasion, she publicly supported the mothers of the Basque prisoners. Back in 2000, Hebe published an open letter on her group's website, stating these individuals were put behind bars for expressing their ideas, or because they "knew someone who knows someone."
Amnesty International replied to her allegations, noting that they were "not aware of any cases of prisoners of conscience in Spanish prisons."
But Bonafini does not feel empathy for certain mothers of political prisoners, such as the Cuban Ladies in White.
Hebe does not use the prestige of the Argentine Mothers. On the contrary, she supports human rights violators in Cuba, Venezuela, and any other country that follows their ideology.
Hebe de Bonafini cannot be called an activist for human rights. She is simply a woman who fought a specific dictatorship in the past, when she was directly affected by it.