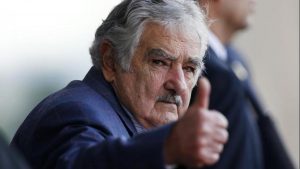 EspañolPopular phrases and sayings can seem simple, and yet contain profound wisdom. Which is exactly why it's so easy for them to spread word-of-mouth. Take, for example, the saying: "You can fool a few people for a long time, and a lot of people for a short time, but you can't fool everyone all the time."
That maxim fits perfectly with former President of Uruguay Jose "Pepe" Mujica's approach to dealing with the six Guantanamo detainees brought to the country in October 2014, just as he was finishing up his term as President.
Let's review what happened:
Externally, terrorist attacks carried out by Islamic fundamentalists and linked to Al Qaeda came resulte in beheadings, crucifixions and mass murder, which were intended to terrorize people, subdue them and remove all traces of their dignity.
At the time, Mujica was enjoying some international popularity thanks to his decision to decriminalize marijuana, as well as his unusual home, language and dress and behavior in public. In March 2014, he was even nominated for the Nobel Peace Prize.
Using that popularity, Mujica began carrying out his personal agenda, which included helping President Barack Obama solve the United States' problem at Guantanamo with a plan to move some of the prisoners to Uruguay.
He declared publicly that, "I was a prisoner of war for many years and it's rotten to talk about! We have to think about human rights in this situation." He also said he would seek the release of "two or three" Cubans serving sentences in US prisons.
At that time, the world was dazzled by the "greatness" of Mujica's spirit. But not in Uruguay.
Former President Jorge Batlle (2005-2010), who had worked with Mujica for a long time, said the move was a personal strategy from "Pepe."
"He's working hard for the Nobel Prize," Batlle said at the time. "King of the show, photographed in full suit or shirt, the man wants to be international and that must be the reason he's underlying this whole mess."
Elections were held in October of that year. According to most opinion polls, it looked very likely that the ruling party Frente Amplio (FA) would lose its parliamentary majority in both chambers for the first time in 10 years. Retaining the presidency also looked unlikely.
In response, Mujica decided to become directly involved in the campaign despite it being expressly forbidden by the country's constitution.
Going against all odds, Mujica brought the international and national media together so as to put a spotlight on the "move" of six Guantanamo prisoners.
In an October 2014 column on the topic, I wrote that:
"The Uruguayans' concern increases with secrecy and evasions from Mujica and the US ambassador in our country, Julissa Reynoso. The agreement, whose nature is unknown, has not been presented in the Parliament to be approved or rejected as determined by the constitution. Nor have the people been adequately informed despite this being such a sensitive issue. … 58 percent of Uruguayans see our country taking prisoners as a "bad" idea."
The opposition reacts
Opposition leaders criticized the president for not having consulted the presidential candidates before agreeing to the transfer of detainees, and demanded the agreement be passed by Parliament, but were ignored. Everything was done with great haste and improvisation. It seemed that, similar to an absolute monarch, Mujica had carried out decisions under the pretext that "his will was law."
Faced with opposition demands, Mujica said in his weekly radio address: "Once you find out that there are about 200 guys (against you), do you give in to cowardice?"
"Even though I told them that the constitution forbade me from doing this," he said. "I did manage to do everything I could. … I cannot help it that I'm a militant."
However, in December 2014, at the headquarters of the Central Workers PIT-CNT, Mujica reemphasized his "humanist" motivations that would have driven the issue of Guantanamo detainees. On that occasion he said emphatically: "We do not change human flesh for oranges."
However, as other wise popular saying goes, "by the mouth the fish dies." In Cordoba, Argentina, Mujica gave a speech about various topics, including bringing prisoners from Guantanamo to Uruguay. It was then that he stated:
"Being President is not easy — international negotiations even less so. To sell some kilos of oranges to the United States, I had to bring over five crazy men from Guantanamo."
In the end, Mujica largely got what he wanted. He won the elections and his status internationally. But now we are left with a tremendous problem. Dhiab Jihad, one of the former prisoners of Guantanamo, said:
"I never had anything to do with Al Qaeda, but with all the abuse I received now, I like them. They create their enemies, so I'm happy with what Al Qaeda does".
Sometimes one gets the feeling that Mujica's ego is too big for his county.