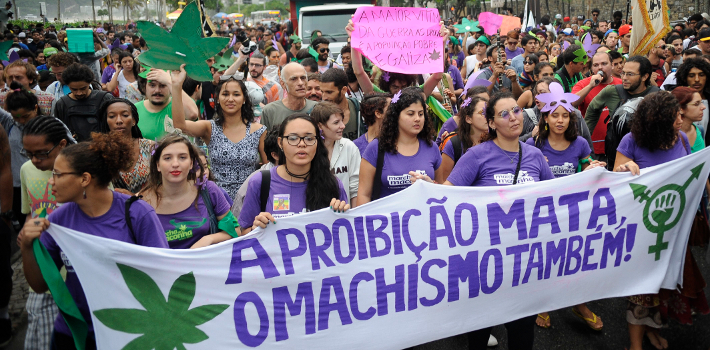 EspañolIn Brazil, the case of a man convicted for possessing three grams of marijuana has triggered a national debate over the possibility of drug reform.
Last month, the man's appeal reached Brazil's Supreme Court, and the trial has garnered the attention of lawyers, physicians, and activists who are pushing for the legalization of some drugs.
Brazilian citizens are also following the case closely. The hashtag #DescriminalizaSTF became a worldwide trending topic on Twitter, and the court's YouTube channel attracted 15,000 viewers during the hearing, when it normally averages only 300.
Compared with surrounding countries, like Argentina, Colombia, Venezuela, and Chile, Brazil's drug laws are severely outdated. Unlike those countries, drug possession for personal use in Brazil is still a felony. Meanwhile, its southern neighbor, Uruguay, has even legalized the mass production and sale of cannabis.
"In South America, only Guyana and Suriname take a criminal approach to drug use.… It feels like living in the Stone Age," says Dartiu Xavier da Silveira, a physician at the Federal University of São Paulo.
"One of my patients, who is an alcoholic, has to face all the problems that come with addiction … but a cocaine addict, on top of all that, must also endure police abuse, lawyers, and legal problems. In other words, they make a sick person's problems worse," Da Silveira laments.
Rafael Custódio, a legal adviser for human-rights advocacy group Conectas, says that "currently, some 27 percent of inmates in the country are jailed for drug-related crimes."
[adrotate group="8″]
Supreme Court Justice Luis Roberto Barroso, who favors marijuana legalization, told El País that "if we were to decriminalize, the most difficult issue is to set the standards on how to treat different cases. Another big problem is the imprisonment of non-violent young people and drug users."
The Public Defender's Office of São Paulo State took up the case, and their defense strategy rests in questioning the constitutionality of the nation's drug laws.
However, Attorney General Rodrigo Janot — who has already presented his opinion to the court — believes there is "no constitutionally protected right to get high."
Ronaldo Laranjeira, chair of the São Paulo Association for the Development of Medicine, says young people would be most harmed by the court's decision to rule in favor of decriminalization.
Recent opinion polls show that 79 percent of Brazilians oppose decriminalization. Apparently, most people think that favoring decriminalization is the same as saying drugs are not harmful, even though nothing could be further from the truth.
Those who understand how harmful drugs can be, not only to users but to society as a whole, are the most ardent supporters of decriminalization.
Here are just a few reasons why the prohibitionist approach to drugs cannot address the related health and social problems:
Prohibition turns drug trafficking into a lucrative underground business, offering high profit margins for cartels.
Given the money and risk at stake, authorities have more incentives to become involved with trafficking and corrupt institutions.
Anything that is "forbidden" attracts teenagers and immature people.
US President Richard Nixon launched the War on Drugs in 1971, which has been a complete failure, as the number of addicts continues to grow every year.
Juan Carlos Hidalgo of the Cato Institute says that "prohibition has turned drug smuggling into a very profitable business. This is because the cost of distributing an illegal substance has more weight on its price than that of production. In the case of cocaine, the price of the final product is 100 times greater than the coca leaf. Prohibition accounts for over 90 percent of the retail price."
International illicit drug trafficking generates as much as US$400 billion in trade every year, making it the world's most profitable business. There are a plenty of incentives for those involved to keep drugs banned.
Every year, 1.5 million people are arrested in the United States on drug-related crimes. "Since 1989, more people have been jailed for drug-related crimes than for all violent crimes combined," Hidalgo writes.
People convicted for drug crimes haven't harmed anyone, and throwing them in jail for merely harming themselves is absurd.
While disregarding our liberties, politicians have appointed themselves as our guardians. Throughout history, puritanical thought has caused more damage to society than the harm it has attempted to prevent.
Are drugs harmful? Yes, they are, but prohibition is much worse.
Let's hope Brazil takes a step in the right direction.