EspañolTwenty years ago, at this time of the year, one of the bloodiest massacres in human history was being carried out in Rwanda. The genocide began in April 1994 and lasted three months. In that short period of time, about one million people died. To grasp the sheer magnitude of the slaughter, it most be noted that at that time Rwanda had 7.8 million inhabitants. Whole families of the Tutsi tribe were hacked to death by crazed hordes of Hutus, the majority ethnic group that comprises 85 percent of Rwanda's population.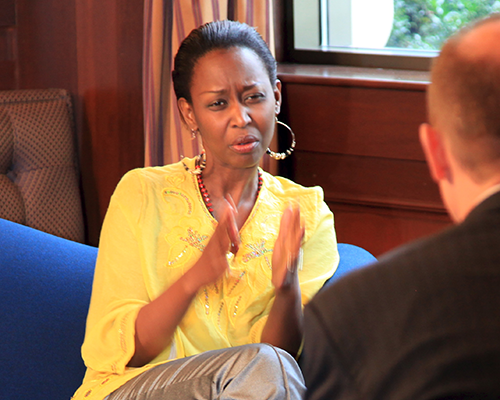 Among the few survivors of that tragedy was Immaculée Ilibagiza. She was saved from that murderous spree by a good neighbor with a big heart, a Protestant pastor who hid her and seven other Tutsi women at home. The cache was a small-sized bathroom, where the eight women had to live in extremely precarious conditions — without even being able to talk to each other lest they were discovered — for 91 days.
Immaculée is a gifted human being for many reasons. Not only for having accomplished the feat without going mad, but also for the way she transmuted the natural hatred for the murderers of her family and friends for the desire to help others. She discovered that hate poisons soul and body. And that the only way to recover the love for life, despite the circumstances, is through genuine forgiveness. That vital attitude was what enabled her to laugh naturally again, form a family, and continue a full and satisfying life.
However, that doesn't mean she doesn't want to remember what happened in her country. Quite the contrary: she wrote all her memories down. Those memories were the raw material for her book, Left to Tell, which she wrote in collaboration with Steve Erwin.
Published in 2006 and quickly a best seller, Immaculée used part of the proceeds of the book to create the Left to Tell Charity Fund, whose mission is to care for orphans of the Rwandan genocide. She worked as a UN official for a period, but now devotes her time to motivational lectures and writing, always based on the stories of what happened during the genocide.
In May, for example, her activity as a lecturer brought her to these locales: she was in Chile on the 26th, in Uruguay on the 27th, in Rosario, Argentina, on the 28th, and in Buenos Aires, Argentina, on the 29th.
After reading the book and attending one of her talks, there are many aspects to reflect on. But I decided to focus on the political, social, and human aspects of her narrative. That is, on the description of genocide: How it comes about, the different attitudes of people, the mechanisms used to incite hatred among different tribes, the hidden motivations of the different actors, and the reasons that lead peaceful people to become sadistic murderers.
Why did I choose this aspect of her narrative? Because I think there may be valuable lessons to prevent future massacres of innocent victims. And I also think it serves as a warning of the potential consequences of the actions of many of our current Latin American leaders.
The first thing to note is that the first step towards genocide is dividing society into "tribes": Hutus or Tutsis; "worms," ​​"sepoys," or "defenders of the revolution"; "squalids" (escualidos) or "Chavistas"; "oligarchs" or " Kirchneristas," etc.
Also, there is a need to discredit those who disagree with the policies carried out by the rulers. The usual practice is to use derogatory nicknames for the opposition — as mentioned above — that lead to social rejection. In Rwanda, during the mentioned period, Tutsis were labeled as "cockroaches."
The root cause of all genocide is the sick desire of a tyrannical party to cling to power. That's why they are always planned in advance from the top of the governmental hierarchy. The tool to spread hatred of one "tribe" towards another is the strategic use of mass media. In the case of Rwanda, RTLM Radio fulfilled that mission.
It is also necessary to use paramilitary forces to terrorize the population. In Rwanda, the organization used for this purpose was the Interahamwe, which started its actions in 1994. Specifically, they aimed to exterminate the Tutsis and encouraged all Hutus to do the same. That's one of the main reasons why ordinary citizens murdered their neighbors and friends — be they infants, children, women, or adult men — for the mere fact of belonging to a particular ethnic group. As Immaculée referred to the Interahamwe in her book, "The government let them do whatever they wanted. Police didn't touch them."
However, greed also played a role. Because everything was allowed when it came to the "others," the usual moral barriers dissolved. Consequently, in many cases, people killed to steal the belongings of the victims, whether a car or a simple chair. In Immaculée's case, a wealthy neighbor, after killing her parents and siblings, started searching for her frantically to kill her as well, and stay with the land of her family after the annihilation of all its members.
But together with these horror stories there are others of supreme heroism and humanism. Neither fear nor propaganda managed to stop Pastor Murinzi — who was a Hutu — from helping Immaculée and other persecuted Tutsis, hiding them in his own home. By doing so, he risked his own life and that of his loved ones. He was not alone; there were several other Hutus who acted similarly. This proves that there is something in human beings that no ruling party will ever be able to destroy. And it shows the importance of forging people with strong values that are aware of their own individuality.
After reading and hearing Immaculée's story, it was clear for me that there were important lessons to learn from the Rwandan genocide. Most importantly, it gives us guidelines on how to prevent future massacres. That's why it is worrying to see several of the attitudes described here in some of the current Latin-American leaders. It is imperative that members of civil society react and rein in these rulers, before it is too much too late.