EspañolElection season in Honduras is coming to an end. It's forbidden to publish polls, as of two weeks ago, and in a few days, electoral silence will also take effect. That's a short time of bliss and respite, after campaigns that have been overwhelming for most voters who consider themselves independent — although we'll miss the catchy songs and funny articles on the behavior of some candidates.
We are only nine days from a new political adventure for our country, which for the first time in many decades, marks the potential for very different paths.
At the end of October, coinciding with the publication of the last public opinion polls permitted by the Supreme Electoral Court, there was international news on the behavior of sovereign bonds, maturing in 2024 and first issued by the government of President Porfirio Lobo Sosa in the first half of this year. The return on these bonds fell about 1 percent after news of polls, a positive for government accounts and for taxpayers who are the ones who pay those debts, while demonstrating less risk for investors holding those bonds. In this case, observers have concluded that international investors viewed favorably that the establishment candidate, Juan Orlando Hernandez, had reached and even surpassed in some polls, Xiomara Castro, presidential candidate for the LIBRE party, who follows her husband and former President Manuel Zelaya.
For context, consider that the market return on the bonds had risen earlier, from 7.5 percent to 10.77 percent (9.26 percent on October 31). That came after the central government's financial difficulties, which stemmed from low tax revenues and a growing budget deficit — as well as a unreported expenses, along with volatility caused by a lack of agreement with the International Monetary Fund.
Market behavior follows the popular saying, "known evil is better than an unknown good," so this preference for Lobo and his followers need not be a stamp of approval for mere continuation. Rather, markets believe that Hernandez will be relatively more prone to economic freedom and clear rules than Castro. To affirm that preference, Partido Nacional's campaign has laid attacks on the LIBRE candidate, accusing her of following Bolivarian guidelines from Caracas and comparing her to Maduro and Chávez, who were allies of Zelaya before his overthrow in 2009.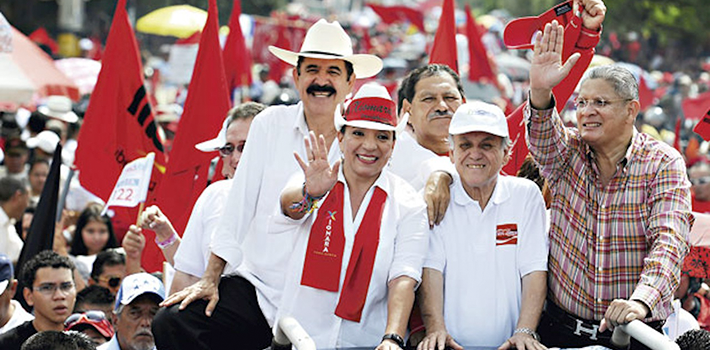 That overthrow, which calmed certain elites, including some media, reduced the fear of a shift towards socialism; nobody knew for sure how radical that could have turned out. However, Castro's campaign responded to that concern with a mailer where the former President of Brazil, Lula da Silva, asked constituents to vote for the LIBRE candidate. Lula still has a good image and isn't considered as "revolutionary" as Venezuelan leaders.
That was timely, since during the same week, President Maduro imposed stronger controls on currency exchange. He also engaged in a direct attack on some chain stores, with a call to occupy them, which has resulted in looting, legal uncertainties, theft, and violence.
The campaign of "Dona Xiomara" has changed significantly since its inception, so one has a hard time gauging whether her victory would bring that sort of activity to Honduras. First, she raised the banner of popular resistance after the overthrow of her husband. Then she proposed a minimum wage increase to 10,000 Lempiras (US$490); opposed startup cities; proposed rearranging the country with land reforms (curious, being that she comes from a family with large tracts of land in her hometown, Olancho); and called for an elimination of the military.
As time went on, however, she no longer referred much to wage increases, nor to eliminating the military, nor to the revolution. Her propaganda began distancing itself from the obscurantism of the revolutionary red and black, and included more and more white.
Thus, she wants to attract independent and moderate voters. Apparently, she has realized that the red Marxists are fewer than those who oppose a drastic change in the country's direction. The use of Lula was just another example of inconsistency and evasive political language the campaign always hoped would unite most of the population. It remains to be seen how this majority votes, and whether it results in a shot to the foot, as happened in Nicaragua given internal divisions among Ortega's opposition.
Translated by Tony Escobar.