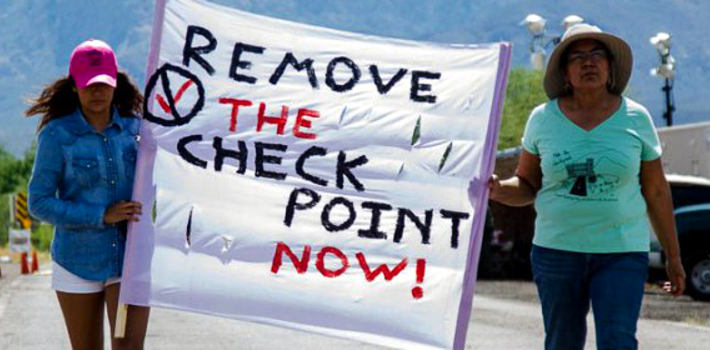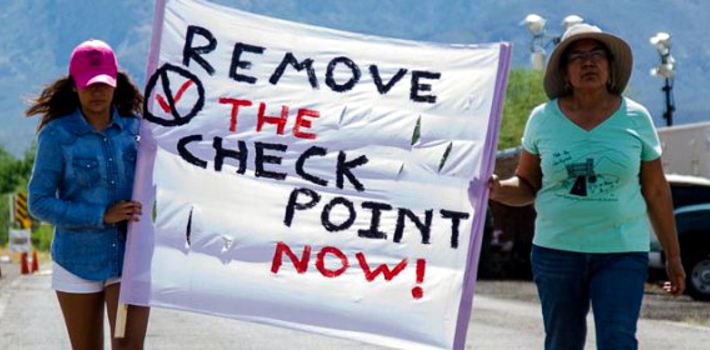 EspañolArivaca's had enough, and residents of this rural Arizona border town are letting the US Department of Homeland Security know that their inland immigration checkpoint has got to go.
Some 100 concerned citizens and like-minded supporters descended upon the Border Patrol checkpoint on Arivaca Road on Wednesday, May 27, hoping to send a message to their elected representative in Congress.
"Rep. Grijalva: When Is Our Hearing?" read a large banner displayed by community members. It's been almost a year since Congressman Raul Grijalva (AZ-D) promised Arivacans an ad hoc congressional hearing to review the negative impact of inland checkpoints on border communities. "It was inspiring to have Grijalva's support," Arivaca resident Jack Driscoll said, "now we need him to keep his word and give us our hearing."
Protesters staged a peaceful sit-in at the checkpoint and held a public hearing to allow residents to voice their concerns and air out what they cited as "widespread abuse and harassment, rights violations, racial profiling, and economic deterioration" at the hands of the Border Patrol.
The event was organized by a group called People Helping People in the Border Zone (PHP), as part of a larger day of action across seven Arizona border communities calling for the demilitarization of the US-Mexico border.
"It's like a war zone all the time," Arivaca resident Patty Miller said of the Border Patrol's presence in her community.
PHP representatives say their sit-in lasted several hours, despite a strong showing from armed agents who "used physical force, attempting to move the residents back." The Arizona Republic reports that only four or five agents normally patrol the inland checkpoint on Arivaca Road, but those numbers were quadrupled on Wednesday in anticipation of the rally.
"We're here to listen for the true issues," Border Patrol Tucson Sector Chief Patrol Agent Manuel Padilla told the Los Angeles Times. Padilla says the checkpoint protesters "misunderstand" the role of the Border Patrol in keeping the community safe.
The agency maintains that suspicionless, internal checkpoints operate within the law, and are necessary to the prevent the flow of unauthorized immigrants and illegal drugs.
A growing number of residents of the borderland, however, disagree. Protesters at the Arivaca checkpoint say they feel threatened by armed federal agents impeding their travel, and want to see all internal checkpoints disappear from regions near the border.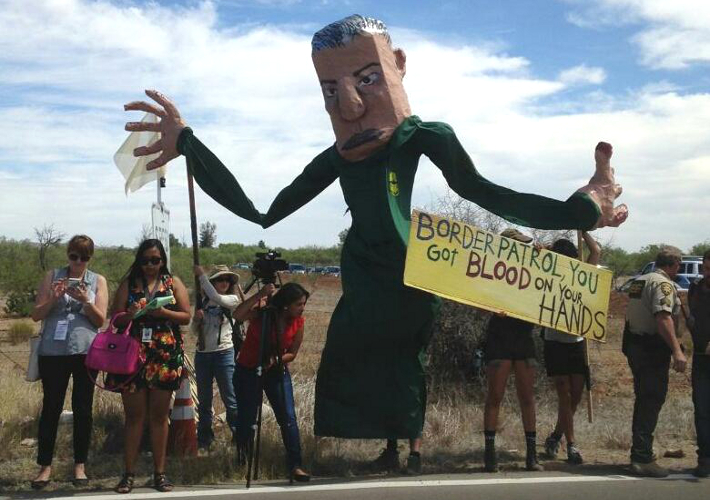 "You Have No Rights Here"
It's been eight years since the Border Patrol setup the "temporary" checkpoint on Arivaca Road. Since that time, People Helping People has gained support from the community in opposing the checkpoint, and representatives say 60 percent of local businesses now back its closure. At the protest on Wednesday, local business owner Maggie Milinovich said Arivaca's "reverse-gated community is a barrier to tourists … this checkpoint is choking our community."
PHP has fought for the removal of the checkpoint for the last two years. In February 2014, organizers began monitoring the Border Patrol's activity at the checkpoint, photographing and video recording what they viewed as an "occupying army."
In April 2014, the ACLU of Arizona responded to calls from residents who said agents were impeding their right to film and harassing their monitors. ACLU staff attorney James Lyall said Border Patrol agents told residents: "You have no rights here … you're suspect just because you live here."
Lyall says agents at these checkpoints routinely engage in civil-rights abuses, including "prolonged stops and detentions, extended interrogations totally unrelated to verifying citizenship, drug dogs falsely alerting to nonexistent contraband in order to justify invasive searches, verbal insults, excessive use of force, and racial profiling of Latino residents."
Constitution-Free Zone
Fourth Amendment protections against "unreasonable search and seizure" do not apply near the US border, according to DHS. The Border Patrol says it derives its authority to stop, question, and search travelers from the "border search exception" established in the Immigration and Naturalization Act (INA) of 1952, and later upheld by the Supreme Court.
Nevertheless, the surge in checkpoint activism across the southwest United States in the last few years has forced Customs and Border Protection (CBP) authorities to admit travelers maintain the right to resist interrogation. In response to an incident at a checkpoint near Brownsville, Texas, Rio Grande Valley Sector Operations Supervisor Enrique Mendiola said: "While an individual is not legally required to answer the questions, 'are you a US citizen and/or where are you headed[?]' they will not be allowed to proceed until the inspecting agent is satisfied that the person being questioned is legally present in the United States."
A "constitution-free zone" is how the ACLU describes the 100 air-mile area along the entire US border where CBP exercises its authority. While these inland checkpoints are primarily located in the southwestern region of the country, the so-called constitution-free zone is so vast that two-thirds of the entire population (approximately 200 million people) could potentially face the sort of harassment Arivacans say they fear today.
Shut It Down
Kristen Randall, who told the Arizona Republic she was once relatively neutral on the checkpoint, says more work is needed to see it shut down for good.
"It is probably naive to think that our actions today are going to close the checkpoint. But we need to cause a tidal wave of awareness, so people might see that this going on right here in America."
PHP organizers say their sit-in on Wednesday ended with a showdown with Border Patrol agents and the Pima County Sheriff's Department. While no one was arrested, they say agents shoved protesters away from the area while police stood by "armed with crowd dispersal weapons."
"This is a metaphor for the threat of violence we face daily as border residents at the hands of the Border Patrol," Arivaca resident Sophie Smith said. "This is why we want the checkpoint gone."