EspañolAn eyewitness to the police killing of Jose Walter Garza in Laredo, Texas, on Saturday has come forward to contradict the official account of events.
In an interview with local, independent journalist Hector Cubillos, Gateway Truck Stop CFO Victor Treviño said police knew in advance of the shooting that the victim was armed with only a pellet gun.
"When the police arrived, my gate guard informed the police that it was a BB gun. [The guard told police] not to take it as a real gun. It was a BB gun. He told several of the officers," Treviño said.
Police arrived at the Santa Maria Gateway Truck Stop at around 2 a.m. local time, after receiving a call of a man with a gun. According to the police department spokesman, Joe Baeza, six officers opened fire on Garza, 30, approximately five minutes after arriving on the scene. All six have since been "temporarily reassigned" to administrative duties, while the department conducts an internal investigation.
There was so much stray gunfire, people inside the building were forced to drop to the ground and crawl their way out of the police line of fire.
According to the victim's family, the injuries Garza sustained were so gruesome they have decided against burying him in a casket. Baeza would not confirm how many shots police fired, but family members say they unloaded at least 80 rounds. Garza's cousin Andrea Martinez told the New York Daily News that he was hit so many times "he had no face."
Victor Treviño confirmed police fired dozens of bullets at Garza in his interview with Cubillos. He added that there was so much stray gunfire, people inside the building were forced to drop to the ground and crawl their way out of the police line of fire. "These things have not been reported in the media," he said.
The Gateway Truck Stop CFO has also released surveillance footage of the incident to the Laredo Morning Times. While it begins with Garza out of frame, his lifeless body can be seen rolling toward the front of the building.
As he lay motionless on the ground, three officers then handcuffed his hands behind his back. Akin to the police killing of Michael Brown in Ferguson, Missouri — which sparked weeks of unrest in the city — Garza's body was left on the ground, next to a trash can, for over four hours.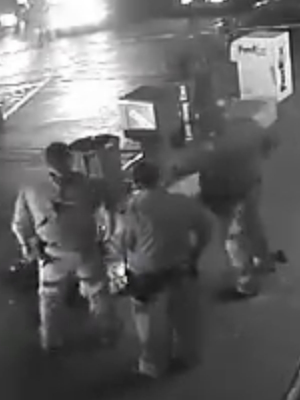 The actions of two of the officers involved in the shooting, in particular, have raised the ire of concerned citizens within the Laredo community, as well as social media and police accountability groups across the country. At minute 1:25 of the surveillance footage provided by Treviño, officers can be seen congratulating each other with a "fist bump," minutes after handcuffing the body of the man they had just riddled with bullets.
"There's a dead person in front of them. That's somebody's brother, somebody's son. I think that's where the community became outraged," said Treviño during his interview.
A practicing attorney who was born and raised in Laredo but began his 13-year law career in Chicago, Treviño says he was surprised by the Laredo Police Department's show of force: "There were probably over 20 squad cars here."
He added that he believed the police officer's behavior in this case was highly questionable: "That fist bump was clearly unprofessional.… an issue for internal affairs to deal with it." He says this sort of behavior by police "destroys their entire credibility."
Video of Laredo, TX cops shooting and killing a homeless man then fist bump one another in jubilation. #FTP… http://t.co/Oll7pJ9PwJ

— Peaceful Streets (@PeacefulStreets) September 2, 2014
Prior to police arriving on the scene, the truck stop's private security questioned Garza about what appeared to be a gun in his possession. Garza reportedly told the guard that he had just purchased the pellet gun at the local Walmart. Treviño says the guard checked it to be sure, but could tell it was just a BB gun based on the cartridges. According to the Gateway CFO's statements, Garza complied with the guard's request to put away the pellet gun and fell asleep on the couch in front of the building.
Treviño's words also contradict Laredo Police Chef Ray Garner's statements that police officers on the scene "negotiated" with Garza for five minutes "trying to get him to take that pistol and put it down on the ground."
He was sitting down, and he woke up after several commands [from police], because he had headphones on and he was asleep. As he stood up, the police officers began firing.
"This was an individual that came and sat down at the couch in front of the building and basically had a bottle of wine and fell asleep," said Treviño. "He was sitting down, and he woke up after several commands [from police], because he had headphones on and he was asleep. As he stood up, the police officers began firing."
The lawyer and Gateway company representative added that he believes this incident, along with many other similar recent cases around the country, raises questions about the militarization of police and their use of force: "Some of those police officers were armed with AR-15 [rifles]. Those used to be military weapons."
On the question of whether or not police should have responded with deadly force, Treviño asks: "Is this person executable on the spot, because he appears to have a gun? Or should he be neutralized to face trial and be sentenced at a later date?"
"You expect them [the police] to execute the law. And the law basically says that everybody's innocent until proven guilty. They're not judged on the street. They're judged in a court room, before a judge, before a process. Then, they are sentenced. That's the law."
Treviño says he believes the decision of a few officers to use deadly force in this case "waived the entire legal process" to which Garza was entitled. He says a larger discussion on the proper role of police and how they are held accountable by the community is essential. "At any given time, we could be a Mike Brown."